How it works
Features
Search and get fast, secure access to the most comprehensive collection of scientific, technical and medical (STM) content available through Document Delivery with RightFind
Integrate and manage CCC's copyright licenses, company subscriptions, open access and internal collections
Customize content workflows, including personal and shared libraries, administrator features, flexible billing options, and over 100 fields for robust reporting to monitor content usage and spend
Benefits
Accelerate the flow of research to drive discovery and innovation
Simplify copyright compliance and strengthen collaboration in a wide range of workflows
Maximize the value of your content investments and streamline your information management operations.
Meet the evolving needs of content users across your organization with a flexible and scalable solution
Provide a unified experience that's simple to navigate with the RightFind Suite—a robust set of software solutions that fuel scientific research and simplify copyright, anytime, anywhere
Discover more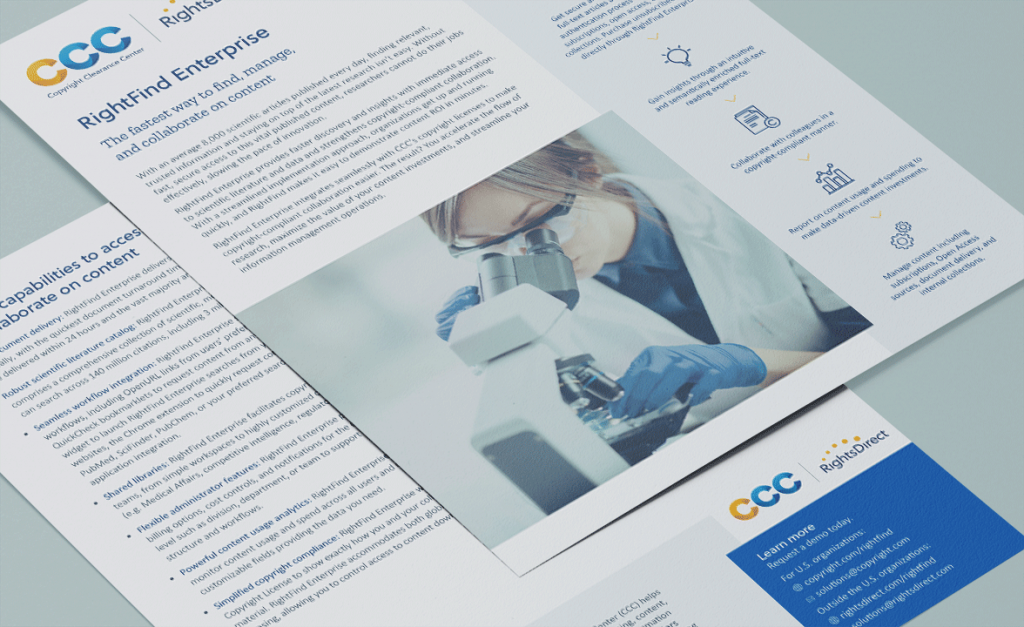 View product sheet
RightFind by the numbers
See how the numbers tell the story: RightFind offers access to the most comprehensive collection of STM content available
155million +
citations in our content catalog of published STM information
22 million +
searchable full-text documents
10 million +
Open Access articles available
The RightFind Suite is a set of integrated, flexible software solutions that enable professionals at R&D-intensive companies to search, discover, access, read, share, organize, collaborate on and analyze content and generate data-driven insights.
Start by learning how the RightFind Suite can work for your business
More solutions for business
Featured resources
While current circumstances may make it seem like it's not an optimal time to throw something new at people, rolling out new literature management solutions that will make workers' lives and managing content easier is a worthwhile venture – and a less daunting one than you may think. 
Otsuka's information team created a Global Information Network with the help of RightFind Enterprise.
RightFind shared and personal libraries make it easy to store, organize, and collaborate on content within teams and across the enterprise.
CCC's Kevin Barrett welcomes Jamie Hullinger, solo corporate librarian of global medical technology leader Zimmer Biomet, for an informative 30-minute Q & A on navigating change and delivering value like a (solo information) pro.
Customer success story
How RightFind Enterprise is meeting the needs of...
The ability to seek, discover, access, and share scientific, technical and medical (STM) articles is vital to the success of an emerging life science organization.
Without fast, secure access to vital published content, R&D teams in the fast-paced, highly regulated food industry cannot do their jobs efficiently, slowing the pace of innovation and risking a competitive edge.
In the fast-evolving chemical industry, companies rely on easy access to scientific literature, patents, standards, and guidelines to stay on top of emerging market trends.