How it works
Features
Complement your subscriptions and publisher agreements with a single-source licensing solution
Provide a consistent set of reuse rights across publishers to enable your team to efficiently collaborate
Demonstrate your organization's respect for intellectual property and commitment to corporate social responsibility
Benefits
Allow library staff to spend less time verifying rights and obtaining individual permissions
Limit copyright infringement risk
Reduce exception handling with a consistent set of storage and re-use rights that apply across copyrighted content
Discover more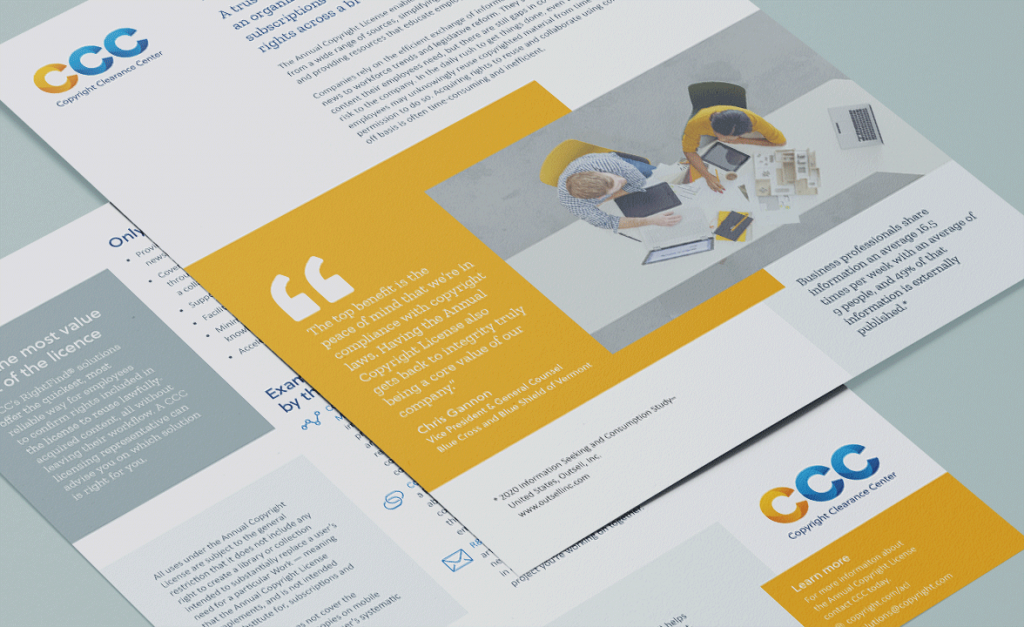 View product sheet
Customer success story
Featured resources
Copyright is central to high quality outcomes as copyrighted material is the fuel for AI systems. Licensing is an effective solution enabling the use of copyrighted material as society realizes the benefits promised by AI systems. Learn more about the intersection of AI and copyright.
Over 600 information professionals around the world share how copyrighted content is reused and shared in the workplace.
Copyright is often misunderstood. Employees rely on and collaborate using published content as part of their daily business routine. These uses of published information support innovation, discovery, and growth. These activities may, however, be violating copyright law and placing your organization at greater risk of infringement.
If technology has escalated infringement, it has also brought new solutions that make it simple to
comply with copyright law and still embrace the sharing that is the digital workplace's most valued asset.