How it works
Features
Unify data sources with flexible prebuilt and custom data connectors
Enable smarter information discovery via aggregated search

Find relevant content 

through contextualized 

discovery, machine 

learning, and semantic 

search
Benefits
Centralize content discovery 

and access 

​

Enable users to find relevant 

content faster using public, 

licensed, and custom 

vocabularies

​

Maximize the value of your 

organization's content and 

data investments 

​

Support copyright-compliant 

collaboration 
Discover more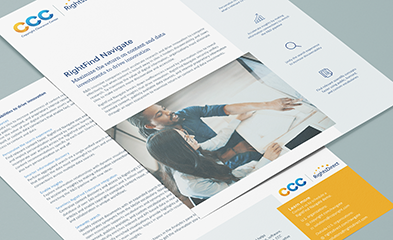 View product sheet
The RightFind Navigate Difference
Semantic Search
Personalization & Contextualization
Open Integration Ecosystem
Customer success story
Featured resources
In any knowledge area, content of interest can be found across many different data sources.
This white paper by Phill Jones is a series of interviews with nine individuals, all key stakeholders in 4IR, most of whom work in the pharmaceutical industry. From knowledge managers to information scientists, each of them provides a unique perspective on the future of data, knowledge and information management.
In this paper, we're looking at data integration — the process of combining information from different sources —
and why it's a valuable approach across the enterprise.