How it works
Features
Unify data sources with flexible prebuilt and custom data connectors
Enable smarter information discovery via aggregated search

Find relevant content 

through contextualized 

discovery, machine 

learning, and semantic 

search
Benefits
Centralize content discovery 

and access 

​

Enable users to find relevant 

content faster using public, 

licensed, and custom 

vocabularies

​

Maximize the value of your 

organization's content and 

data investments 

​

Support copyright-compliant 

collaboration 

RightFind Navigate is part of the RightFind Suite—a robust set of software solutions that fuel scientific research and simplify copyright, anytime, anywhere
Discover more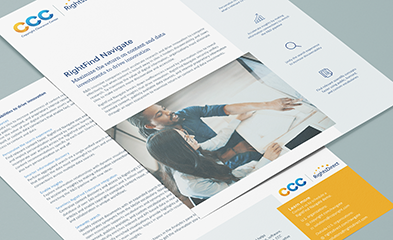 View product sheet
Personalized search across multiple sources of data and information for highly relevant discovery
A single interface to access licensed content, public data and internal proprietary data
Scientific Literature
Clinical Trials
Preprints
Patents
Regulatory Information
Internal Data
Funding & Grants
Chemical & Drug Information
Company Intelligence
Meeting Abstracts
News
Images & Videos
The RightFind Navigate Difference
Semantic Search
Personalization & Contextualization
Open Integration Ecosystem
Customer success story
Featured resources
RightFind Navigate has seen major enhancements, including new data source connectors, boosts in search functionality, and more. Read on to learn 'the why' behind these big updates.
Four core requirements are necessary for R&D teams to realize the full potential of streamlined search, usage, and insight generation. We outline them in this white paper. 
In this paper, we're looking at data integration — the process of combining information from different sources —
and why it's a valuable approach across the enterprise.