How it works
Features
Provides the broad coverage needed to share excerpts of books, journals, newspapers and more from a repertory of more than 1,500 publishers
Covers E-reserves, learning management system postings, coursepacks, classroom handouts, campus-wide email, administrative photocopying, research, scholarly collaboration, and more
Verifies coverage in seconds with "check & go" copyright permissions
Benefits
Enables faculty, researchers, staff, and students to reuse and share copyrighted content while respecting intellectual property rights
Helps minimize copyright infringement risk to your institution
Saves time and money with fewer individual permissions requests and fewer invoices to manage
Discover more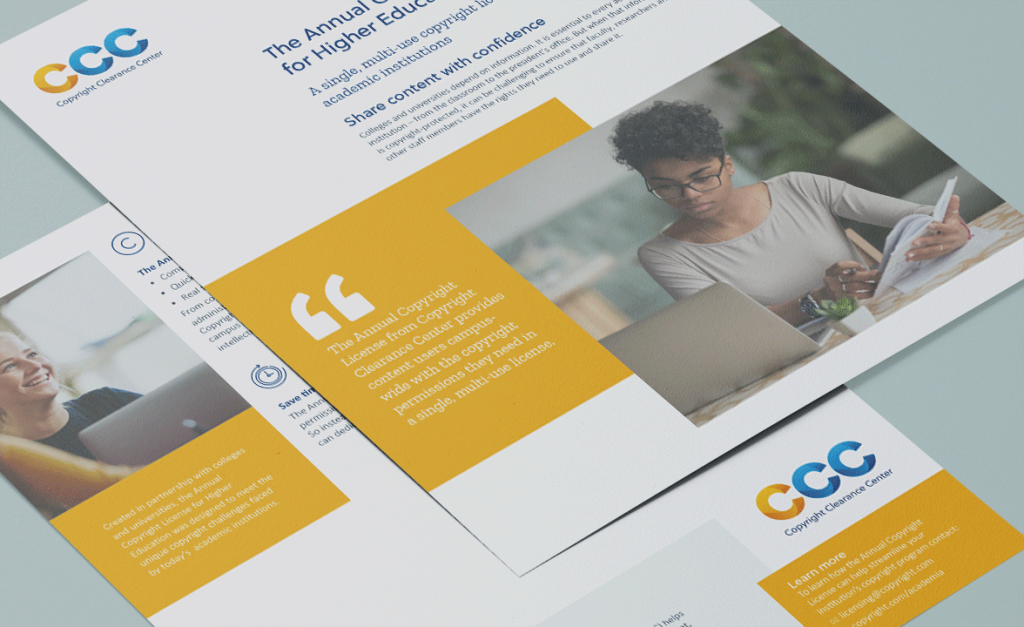 View product sheet
Customer success story
Featured resources
Learn how you can get campus-wide copyright coverage while saving time and money with our Annual Copyright License for Higher Education.
This detailed guide was created by CCC to offer information on U.S. copyright law and best practices and solutions for campus-wide copyright compliance to students, instructors, faculty, and staff at U.S.-based colleges and universities.
There are several important questions you should consider when assessing your institution's level of risk of copyright infringement.