A Comprehensive Scholarly Communications Workflow Solution
RightsLink for Scientific Communications is the market-leading solution supporting publishers with a wide range of workflows for easy management, collection, and reporting on a variety of publication charges.
Designed with maximum flexibility in mind, RightsLink for Scientific Communications is a dynamic workflow solution that helps publishers quickly model and support a variety of deals, from the simple to the complex. Designed by experts in Open Access publishing and licensing, this sophisticated solution addresses author, funder, institution and publisher needs for transformative agreements that include Read and Publish, Publish and Read, Membership, Deposit and more. 
Easy Management of Read and Publish Workflows
With support for pre-paid funder and publisher accounts, RightsLink is the only solution that enables Read and Publish agreements between publishers and institutions without requiring author involvement.
Advanced, Flexible Reporting
RightsLink is an advanced OA agreement management solution that addresses disambiguation of affiliations, simplifies workflow, and provides unique insight through data.
Throughout the manuscript and APC workflow, RightsLink presents intuitive dashboards designed for a publisher's editorial, finance and compliance teams. RightsLink offers a broad set of reports "out of the box" as well as extensive publisher- and deal specific customization.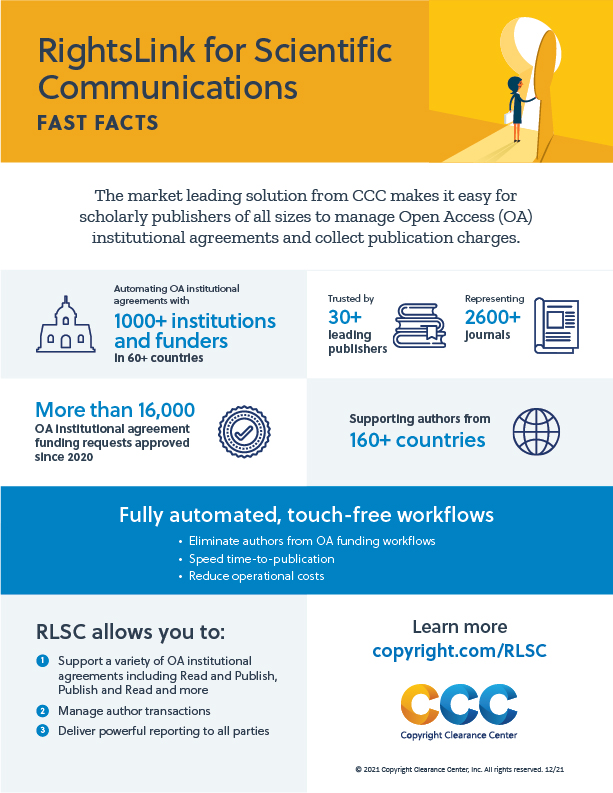 Touch-Free Workflow for Transformative Agreements
RightsLink for Scientific Communications' recently introduced enhanced support for Read and Publish, Publish and Read, Pure OA and other transformative agreements with a new touch-free workflow that removes the author, and optionally the institution or funder, from the APC payment and funding workflow. This new workflow helps eliminate the administrative burden for researchers and reduces the risk of Open Access publication delays under Read and Publish models.
RightsLink for Scientific Communications helps you:
Accelerate publication (perfect for Read & Publish) ​
Eliminate administrative burden on researchers​
Create a better funder/institution experience through automated or manual intervention​
Assist rightsholders to ensure eligible manuscripts are published Open Access​
Reduce costs​

No credit card fees​
No invoicing, dunning​
Low impact on customer service​
With RightsLink Author Services, publishers can automate a variety of promotional and publication charges in a scalable, flexible way. From author submissions and page and color to custom covers and authors reprints, our services allow you to automate and streamline a number of key author interactions. Learn more about Author Services.
Coming Soon: OA Agreement Intelligence
OA Agreement Intelligence is the first automated agreement modeling solution designed for publishers transitioning their business models through institutional agreements. Combining enriched OA transaction data with easy-to-use modeling and analysis tools, OA Agreement Intelligence simplifies the process of creating and communicating data-driven, sustainable agreements between publishers and their institutional or funding partners.
OA Agreement Intelligence helps publishers reduce costly, manual affiliation data clean-up work, optimize and scale OA their programs, build and maintain trust with customers, gain strategic agreement insights, and more.
Put the Open Access Expertise from CCC to Work for You
CCC is a trusted intermediary and recognized market leader uniquely positioned to facilitate dialog among key stakeholders in the author, publisher, institution, funding and vendor communities. Learn more about how CCC's simple approach – creating solutions together – encourages all stakeholders to work together as a community. 
We also encourage engagement across boundaries through an ongoing series of roundtables, panel events, webinars, podcasts and blogs. CCC is a member of the Open Access Scholarly Publishers Association (OASPA), the Association of Learned and Professional Society Publishers (ALPSP), the International Association of STM Publishers (STM), and a Sustaining Member of the Society for Scholarly Publishing (SSP).
Learn how RLSC was developed with community designed, community driven approach and how CCC works to continually engage with and listen to the OA community.