When last we looked at the Music Modernization Act (MMA), it had just been passed by Congress and signed into law. In my post, I noted that the legislation called forth a "…new 'Mechanical Licensing Collective' (MLC) for the newly-authorized monies that will start flowing from digital uses." And I opined that "setting up and operating a collective of this sort may be trickier" than one might expect. Since then, however, there's been substantial money and effort devoted, and therefore implementation progress made, towards the operational launch of that collective; in this post I will focus on that progress, and the remaining milestones en route to the royalty checks actually starting to flow.
To a broader point, from a pro-copyright perspective: It is still interesting to me that Congress, as informed by stakeholders and an extensive public comment process, came up with a federally-blessed collective licensing approach to address the collection and payment issues raised by the advent (and broad commercial success) of music streaming services, e.g., Spotify, Apple Music, and Amazon Music, as well as many others. While nothing in the federal bureaucracy is perfect, this one seems at least workable and it has been subcontracted out to groups who have a vested interest in seeing that it in fact works – so it seems fit to purpose, as our British cousins would phrase it. From a collective licensing perspective, the series of pre-MMA infringement lawsuits comprised the consumer and industry "pain points" that led to a demand for this statutory license. The key point here is that the rightsholders (artists and labels) do not issue any license – the government does, by statute. The MLC functions as the government's designated license administrator tasked with administering the money (payments in and payments out) resulting from implementation of a statutory license —and as such, is subject to regular review by the Copyright Office in the public interest as well as regular financial auditors.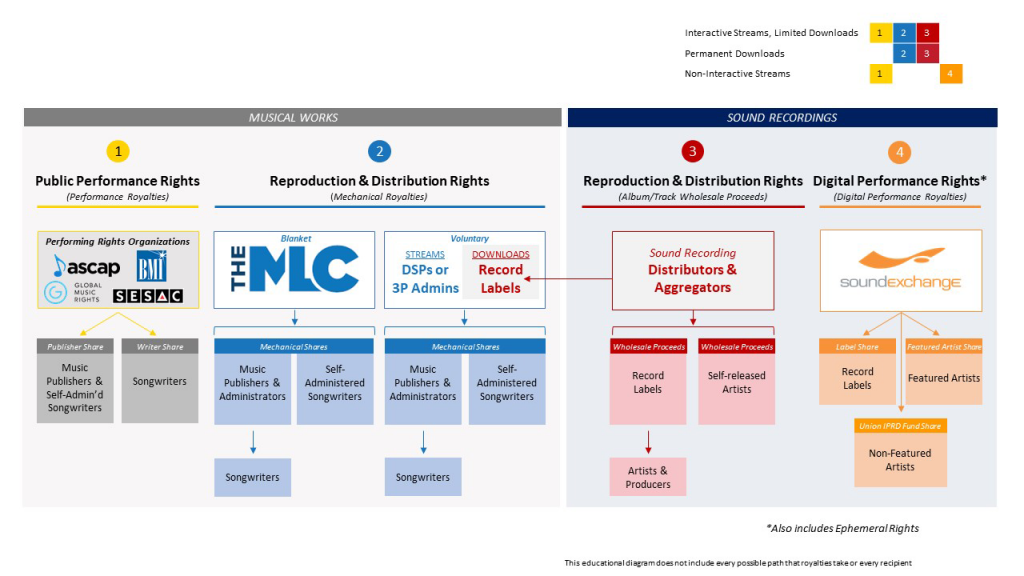 Distribution
As Variety reported, "On Jan. 1, 2021, the MLC officially began administering a new blanket license covering musical works available on U.S.-based digital audio services." (Billboard has also reported extensively on these developments.) This was a result of the behind-the-scenes set-up and provider-selection work the US Copyright Office completed during the two years previous. The attention-garnering part of that announcement, though, was the initial royalty pool already in hand: $424,384,787, which is no small chunk of change. Receipt of these monies by the MLC sets up the next phase, which is distribution.
Distribution of aggregated royalties to individual rightsholders is not a generally well-understood process, but it is absolutely critical to the perceived success of the MCL's implementation. Given the relatively small number of streaming services (and how well-known they are), and the large number of rightsholders (many of whom are not shy about sharing their opinions), press attention will likely focus on any issues that arise with this first distribution.
While the sort of statutory license envisioned in the MMA is not unprecedented —the old U.S. Performing Rights Organizations – primarily ASCAP, BMI SESAC – having been around for 107, 80 and 91 years — the Feds haven't called for the setting up of a system like this in a long while (reaching back to the statutory licenses for webcasting, and before that for cable and satellite television). As with the implementation stage of all major projects, bumps in the road are only to be expected. In any event, the MLC's checks are scheduled to begin flowing in mid-April. On balance, this initial launch period should – hopefully – be an exciting, positive and remunerative time for musical creators and their publishers. But we'll have to see.