T. Rowe Price's Nimble Approach to Managing Global Copyright

 
Upcoming Webinar: 13 May 2020, 1:00pm EDT
Financial services professionals understand the importance of regulatory compliance both for maintaining integrity and accountability in business, as well as the role that it plays in helping earn the trust of consumers that is critical to the success of their organizations.
In an industry with constantly shifting markets and regulatory landscape, staying on top of change is paramount.  From financial advisors responding to unsolicited requests for information from customers to business analysts who need to support their recommendations with documentation, professionals in the financial services sector share information an average of 13 times per week with 20 people, according to Outsell's 2019 Information Seeking, Consumption and Use Survey (US). With 42% of that information coming from external sources, this level of content sharing could translate to up to 107 potential instances of copyright infringement per employee per week (compared with the cross-industry average of 56 potential infringements per week).
If recent weeks following the outbreak of COVID-19 have shown us anything, it's that we need to be adaptable and nimble in our approach to maintaining business continuity, especially in the financial industry. Up-to-date information is needed more than ever in order to respond quickly, alleviate fears, and help teams, partners, stakeholders and clients make well-informed decisions.
At the same time, in-house counsel and others managing the exchange of information throughout the global organization must think strategically and identify efficient processes to ensure the company remains compliant with copyright laws worldwide.  
Join CCC for an Exclusive Webinar with 

John Zevitas

 of 

T. Rowe Price

 
As Vice President and Senior Legal Counsel for T. Rowe Price, John will provide an insightful look at:
How published content is commonly used by an investment management firm

The importance of fostering a copyright compliant work environment 
Challenges around reusing and collaborating with content

T. Rowe Price's strategies for managing 

global 

copyright compliance, including recent adjustments in response to COVID-19.
About John Zevitas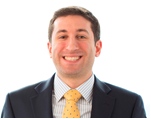 As a member of T. Rowe Price's Intellectual Property & Commercial Contracts Group, John focuses his practice on trademark and copyright counseling, portfolio management, licensing, and commercial transactions.  Prior to joining T. Rowe Price in July 2019, he was a Vice President and Associate General Counsel for Legg Mason & Co., LLC. John earned his J.D. from the Columbus School of Law at The Catholic University of America, and his B.A. in political science from The American University.