In October 2022, CCC announced a strategic integration partnership with Biorelate Limited, a UK-based AI technology company. We recently sat down for a virtual chat with Biorelate's CEO and Founder Daniel Jamieson to discuss the research evolution happening across pharmaceutical and biotechnology companies today, and how this new partnership will help companies curating biomedical data and knowledge.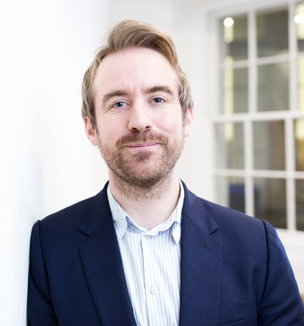 CCC: Tell us an interesting fact about Biorelate that people may not know.  
DJ: Before Biorelate launched Galactic AI™ to automatically capture data from text many of our approaches to data curation were semi-automated. We had developed software to curate data from text, but it was often too inaccurate to be used for analysis. So, our original approach was to use software to capture data and then display it on an in-house interface that biomedical curators could decide if it was correct or not. All the checked data was then used as feedback to make the software better. With that feedback mechanism we eventually surpassed a quality threshold, and the checks were no longer needed.  
CCC: Biorelate helps scientists solving the most difficult biomedical challenges of today. What are some of the trends and evolutions you're seeing across pharmaceutical and biotechnology companies when it comes to drug discovery?  
DJ: When Biorelate started nine years ago biopharma essentially had bioinformaticians and computational biologists. Today you see data scientists, data engineers, cloud architecture experts and all sorts of highly specialized tech roles. This is a clear sign that the industry has become much more data driven. Data is now being seen as an asset that is used end-to-end across the clinical trials spectrum. I expect this trend to continue with an even greater emphasis on decision intelligence. What companies should be seeking to do more of is to understand much earlier in the drug discovery timeline how their drugs work. It is no longer viable to run many drug discovery programs in tandem under the blind hope that one or two drugs might work, while 70-80% of others fail. The cost is simply too great. The mantra now is very much fail-fast, which means doing much more truth seeking much earlier in the process to check off the success factors quicker. Good data is the way to empower this mantra. 
CCC: If you had one piece of advice for data science and computational biology teams exploring drug discovery, what would it be?  
DJ: It would be to carefully consider the quality and relevance of the data they are using. To gain useful insights and make accurate predictions, it is important to use high-quality, well-curated data that is relevant to the problem at hand. It is then important to forge deep collaborations with experts in the wet lab setting and crucially the specific therapy area of interest. Together this is a powerful combination that can lead to faster and more successful drug discovery.  
CCC: Biorelate is known for helping companies curate biomedical data and knowledge. Tell us a little about your proprietary AI platform, Galactic AI™, and how companies are using it today.  
DJ: We've built Galactic AI™ to automatically, and accurately, capture highly valuable biomedical data from text that's typically not available in existing databases. A great example of this is cause-and-effect data that describes relationships between biomedical entities. This data is mostly unavailable and hugely incomplete within existing databases, yet it is very useful for a wide range of drug discovery challenges, particularly target selection and biomarker discovery. Cause-and-effect is also very difficult to mine with software. However, we've focused on solving these tough curation challenges and Galactic AI™ is the culmination of many years of hard work and innovation. The ability to accurately capture entities, their relationships and directionality, all in context, is no mean feat. 
Furthermore, we've really focused on the way teams want to access and interface with the data Galactic AI™ captures. Teams can use Galactic Web to browse and search data and insights directly. Or they can tap straight into the Galactic API or even download the entire dataset directly with Galactic Data. This is much more fitting with how teams today want to use data like this.  
CCC: Here at CCC, we're thrilled to have RightFind XML integrated into Biorelate's Galactic AI™ platform. Can you share how you expect this partnership to benefit our customers? 
DJ: Quite simply it will give our customers access to even more highly valuable data to empower their drug discovery even further. One of the great things about Galactic AI™ is its ability to process any source of biomedical text. We have recently introduced Galactic Platform, which lets customers process their own internal text alongside the millions of text sources Galactic AI™ contains by default. Customers often already have access to millions of closed access literature sources, however there are very often problems with mining rights and standardization. The partnership with the CCC dramatically simplifies this process by allowing customers to access closed access content from CCC in a standard format, which can then immediately be processed by Galactic AI™. It's really great to be working with CCC to enable this and we're very excited to start the partnership.  
Interested in learning more? Check out: