The COUNTER Code of Practice provides the standard for usage reporting not only for journals, but for a whole variety of electronic resources. Having looked at the usage analysis of journal content in the last blog post, we now turn to the usage of book content. In this post, we will examine the changes made in Release 5 of the COUNTER Code of Practice.
Usage Analysis of Book Content
For usage analysis of book content, the Standard View TR_B1 "Book Requests" will be the most commonly used report. It is derived from the same Title Master Report as the Journal Standard Views, and it brings some major changes compared to Release 4.
Standard View TR_B1 shows publication year for each book
Publication year is an important detail when analyzing books. As an improvement compared to Release 4, Year of Publication (YOP) is now shown for each book and through all Book Standard Views, so there is no need for an extra View by Year of Publication like we have for the journal reports.
New metric type: Unique Title Requests
In the new Standard View "Book Requests", we have two metric types per book. Total Item Requests correspond to the Section Requests used in the Release 4 book reports. The other new metric presented here is Unique Title Requests as a consistent metric for all book providers. Unique Title Requests measures usage on the title level and is reserved exclusively for book content.

With Release 5, Unique Title Requests are only increased by one per book no matter how many chapters or sections or how many times these were accessed in a given user session. That means that if a user requests content from within the same book on more than one occasion in a single session, only one Unique Item Request is counted for that book. Ultimately, Unique Title Requests provide comparable book metrics regardless of the nature of the platform and how book content was delivered – as whole books or in chapters.
Impact on Cost per Use Calculations
The new metric Unique Title Requests will have an enormous impact on cost per use calculations. The chart shows what will happen to our cost per use indicators. At the bottom, we have the cost per use figure we have been getting with Release 4 usage data, and above you can see the indicators resulting from Release 5 usage data.
The cost per use indicators for R4 Reporting Period Total and R5 Total Item Requests are both related to the section or chapter level of book content. Both are not counting unique requests but totals, and are therefore the same. There is however a huge discrepancy between those two and the cost per use indicator for unique title usage, which is on a completely different level than cost per use by sections or chapters and on top is based on unique requests rather than totals.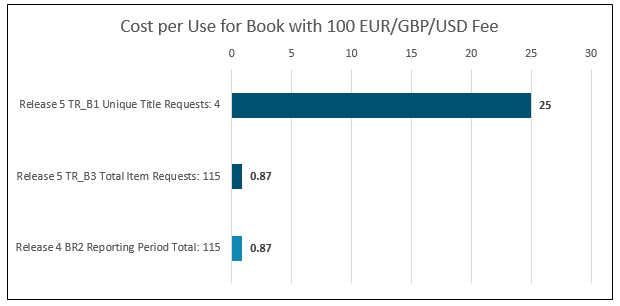 In a nutshell
For usage analysis of book content, Standard View "Book Requests" TR_B1 will introduce two new metrics.
Unique Title Requests is a robust and comparable metric that will help to analyze usage across publishers as it will level the different content delivery methods.
Unique Title Requests will have a great impact on cost-per-use calculations.
In the last of this series of blog posts, we will look at the changes in Release 5 of the Code of Practice regarding database usage analysis.
You can find more information on COUNTER statistics and on Release 5:
*All images by Irene Barbers. Reuse under the CC by 4.0 license.