Project COUNTER provides the Code of Practice that enables publishers and vendors to report usage of their electronic resources in a consistent way. This allows content subscribers to compare data received from different publishers and vendors.
At the start of 2019, Release 5 was installed as the current Code of Practice. This new Code of Practice has been rebuilt almost from scratch, and is introducing a completely new structure with Master Reports and Standard Views, and a whole new set of metrics.
In this blog post, we're examining the changes from Release 4 to Release 5, and the impact it will have on usage analysis of journal content.
Usage Analysis of Journal Content: Standard View TR_J1
For usage analysis of subscribed journal content, the Standard View TR_J1 "Journal Requests" will be the most commonly used report. It is derived from the Title Master Report by applying pre-defined filters, and it brings some major changes compared to its counterpart in Release 4, the Journal Report 1.
TR_J1 is limited to controlled usage only
The exclusion of OA Gold usage from this report introduces a real advantage in contrast to Release 4. Calculating cost per use for the content you have paid for is much more complicated with Release 4 reports. With those, you have to retrieve two reports, the JR 1 (complete usage) and JR1GOA (the OA subset), and you deduce the JR1GOA totals from the totals in JR1. With the new Standard View TR_J1, you don't have to do this anymore.

If you are interested in looking at OA usage, you will find it in Standard View TR_J3 "Journal Usage by Access Types," which breaks down usage by counts for controlled (subscribed) and Open Access content.
Two new metrics for each journal, but no HTML and PDF metrics:
You will find two new metrics in the Standard View "Journal Requests:" "Total Item Requests" show the total number of times a content item was accessed during a session. In contrast, "Unique Item Requests" represent the number of unique content items requested in a session. If a user repeatedly requests the same content during his session, this will only be counted once – regardless of the format of the item! If a user has been viewing HTML full content and then in the same session downloads the PDF of the same article, this is only counted once.
This diagram is an example of how the same usage pattern is represented differently in Release 5 and Release 4:

Platform A presents HTML full text on the landing page of its journals. The counts show a high proportion of HTML usage compared to PDF usage and we can presume that there is a high percentage of cases where a user went from HTML full text view to PDF download of the same article.
Platform B presents article abstracts on the landing page and then links to HTML and PDF full text. For the journal on Platform B, HTML usage is lower than PDF usage. Together with the high count of Unique Item Requests this tells us that there probably were cases where users viewed a HTML full text but did not download the PDF. At the same time, there has been a certain amount of PDF usage that occurred independently from any HTML views. Therefore in the second example, Total and Unique Item Requests are much closer, as you can see in the ratio.
Unique Item Requests will prove to be a very robust metric and will help to make usage on different platforms more comparable with regard to different delivery methods of content.
Impact on Cost per Use Calculations
Now what does all this mean for cost per use calculations? The graph below shows the effect for our two examples. As the counts for Total Item Requests in Release 5 and Reporting Period Totals in Release 4 are the same, we get the same cost per use indicator as before.
However, Release 5 Unique Item Requests will be higher compared to Release 4 Reporting Period PDF counts. Comparing those two metrics, we have to adapt to having lower cost per use indicators.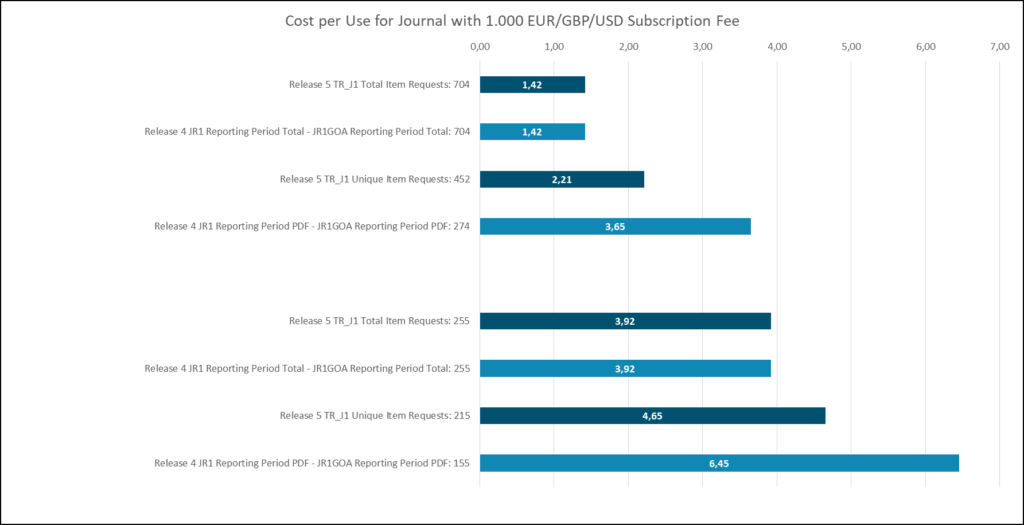 In a nutshell
For usage analysis of subscribed journal content, Standard View "Journal Requests" TR_J1 is your choice.
Usage of open access journal content is visible in Standard View "Journal Requests by Access Type" TR_J3.
Unique Item Requests is a robust and comparable metric that will help to analyze usage across publishers as it will level the different content delivery methods. It combines HTML and PDF usage but excludes over-counting.
Unique Item Requests will have an impact on cost-per-use calculations.
In the next blog post, we will look at the changes in Release 5 of the CoP regarding book and database usage analysis.
You can find more information on COUNTER statistics and on Release 5:
*All images by Irene Barbers. Reuse under the CC by 4.0 license.