It's not every day that a new reproduction rights organization (RRO) is launched. When it happens, it's a cause for celebration. I was delighted to join many friends in the United Arab Emirates (UAE) recently for the official launch of The Emirates Reprographic Rights Management Association (ERRMA). And what a celebration it was, hosted at The House of Wisdom in Sharjah by Sheikha Bodour Al Qasimi, the current President of the International Publishers Association, and whose vision it was that led to the creation of the new agency. Senior government figures, including the Minister of Economy (H.E. Abdulla Bin Touq Al Marri) and Minister of Culture and Youth (H.E. Noura bint Mohammed Al Kaabi), were on hand, giving the official "stamp of approval" to the new organization.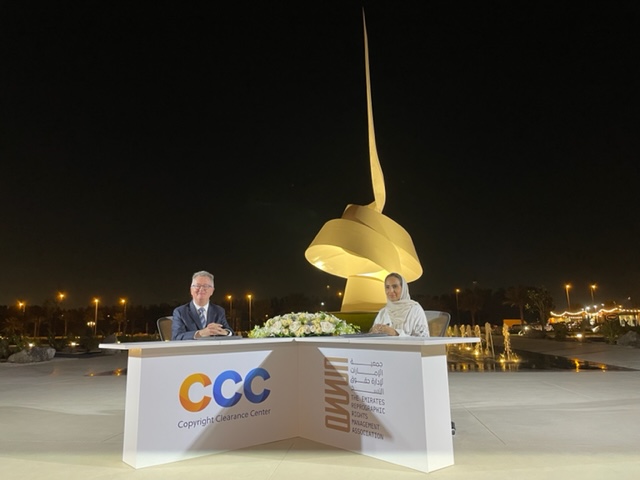 The gestation of any new RRO is lengthy and the process only comes to fruition through collaboration and hard work. It's a great credit to the many stakeholders in the UAE – including authors, publishers, and government officials – that this important milestone has been reached. I am fortunate to have seen at close quarters the continuous commitment over several years of Sheikha Bodour and her team, including Majd Al-Shehhi, Rawan Dabbas, and many others. The creative community of the Emirates is brilliantly served by this talented and dedicated team. The new agency exists because of its determination and commitment and the team has also been gracious to acknowledge those outside the UAE who supported the journey. My own involvement in the process goes back to 2015, so it was such a pleasure not only to be in Sharjah for the launch but also to take the opportunity to sign a bilateral agreement with ERRMA on behalf of CCC. Many others have given time and expertise to support the project, not least Anita Huss (WIPO), Caroline Morgan (IFRRO), Samantha Holman (ICLA), James Bennett (CLA), and Tarja Koskinen Olsson from CCC's board of directors. I know all of them share the pleasure I feel in seeing the new RRO launched.
Of course, a lot of hard work lies ahead for the new organization as it prepares to launch new copyright licenses for the academic and educational communities in the UAE, but it was wonderful to take time to celebrate with the team everything it has achieved so far.