Integra LifeSciences is a leading medical device company, dedicated to bringing lifesaving medical technologies to surgeons and patients around the world.
One of the ways Integra LifeSciences makes good on its motto "limit uncertainty" is by providing employees with digital tools that enable effective discovery of scientific literature.
RightFind Enterprise is the tool Nick Consales, Integra LifeSciences' information resource manager, selected as the company's access point for scholarly information resources, including journal subscriptions and articles purchased via document delivery.
Nick says the ability to search, manage and collaborate on content within the RightFind Enterprise platform means the search time to find what's needed has been drastically reduced.
"Before implementing RightFind [Enterprise] as a solution, each department tracked their own content usage and spending, had no central system for storing the content, and some didn't track usage at all," he explains. "This led to a lot of wasted time looking for articles."
Today, not only has content usage nearly doubled between 2020 and 2021, but based on 2021 averages, Nick says "time savings is conservatively about 12-15 hours a week."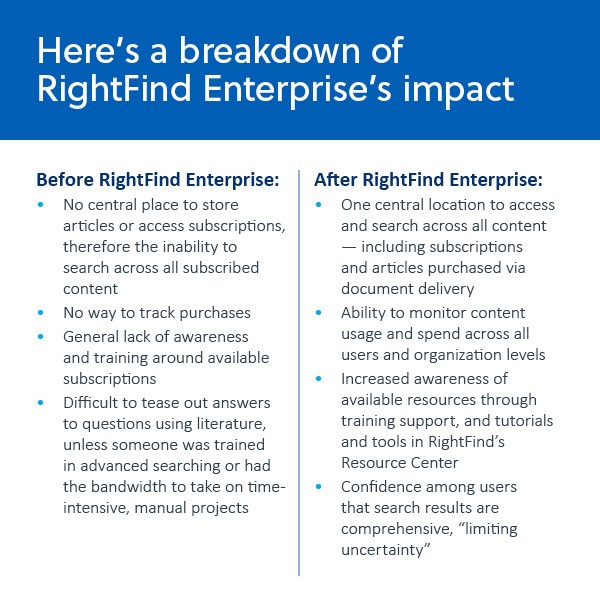 Adding Semantic Search & Reading Capabilities to a Robust Content Catalog
Integra LifeSciences also counts on the important capabilities of RightFind Insight — CCC's tool that applies semantic enrichment technology across search and reading experiences — to glean insights from literature, thus accelerating discoveries.
With a simple and intuitive interface, RightFind Insight brings scientific concepts to the forefront of literature, by semantically enriching the content available through RightFind Enterprise, including content accessed from Integra LifeSciences' subscriptions, its RightFind Enterprise libraries, as well as content retrieved through document delivery from RightFind Enterprise's comprehensive catalog of scientific, technical, and medical content.
"[Before RightFind Enterprise,] at best, users would have to search through each database separately or ask around until somebody was able to come up with the right article or search term," he says. "The [semantic] filters in RightFind Insight make it so much easier than building out a big keyword search. It pulls in the synonyms that are necessary to have the confidence that everything is there."