CCC EVENTS
---
The EU Digital Single Market Copyright Directive: Licensing in the Digital Age
Read Publishing Perspectives' article "At Frankfurt: CCC's Roy Kaufman on the EU's Copyright Directive" and Publishers Weekly's article "Frankfurt Book Fair 2019: Stage Two for Europe's Copyright Update" In March, the European Parliament approved the "Directive on Copyright in the Digital Single Market" with the stated intention of promoting, "a well-functioning marketplace for the exploitation of works." As EU member states begin to support the Directive through passage of national legislation, a panel of specialists in law and publishing offered views on the opportunities, challenges and unintended consequences that the Copyright Directive presents. Moderated by CCC's Christopher Kenneally. Held on 16 October 2019.
Panelists:
Elizabeth Crossick, Head of Government Relations-EU, RELX Group
Carlo Scollo Lavizzari, Lenz Caemmerer
Mark Seeley, Public Policy Consultant, SciPubLaw
---
Part 1: Projekt DEAL and the Anatomy of a Transformative Agreement for Open Access Publishing
Listen to "Anatomy of a Transformative Agreement" on CCC's podcast, Beyond the Book. In January, John Wiley & Sons announced a three-year partnership with Projekt DEAL, a representative of nearly 700 academic institutions in Germany. The "transformative agreement" provides Projekt DEAL institutions with access to read Wiley's academic journals back to the year 1997, as well as for their researchers to publish articles open access in Wiley's journals, all for a single annual fee. Two key participants in the negotiations – Wiley's Deirdre Silver, Associate General Counsel (Global), VP of Legal, Research and Max Planck's Ralf Schimmer, Director, Scientific Information Provision, explored how the deal will operate and how it may serve as a model for "advancing open science, driving discovery, and developing and disseminating knowledge." Moderated by CCC's Christopher Kenneally. Held on 16 October 2019.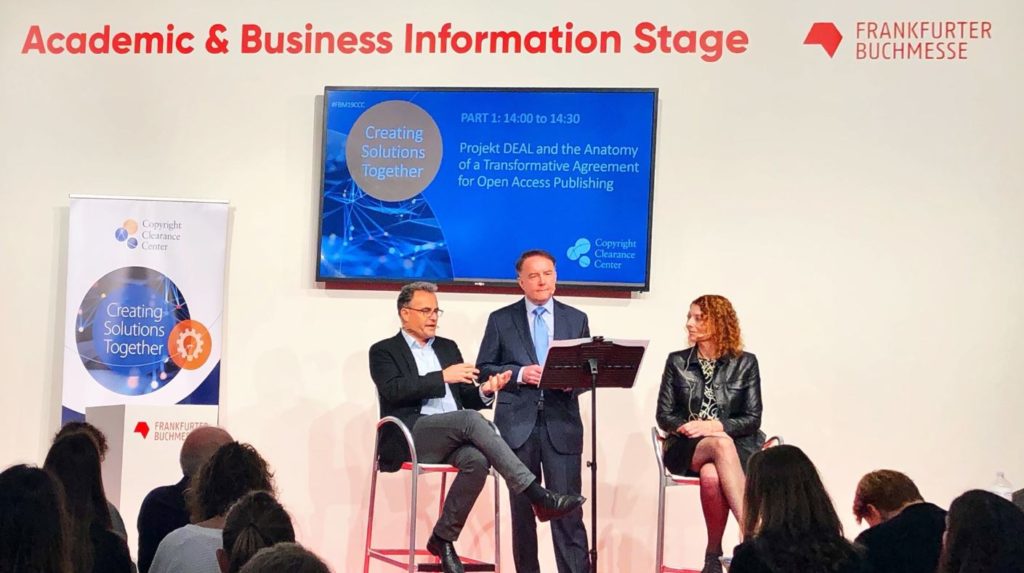 ---
Part 2: The Future of Transformative Agreements: Subscriptions, Rights & Open Access
Listen to "The Future of Transformative Agreements" on CCC's podcast, Beyond the Book. Judging by their growing number, "transformative agreements" will play a prominent role in the Open Access dimension of scholarly publishing over the years ahead. Many types of transformative agreements exist, though all move journals from subscription-based to contractually-based business models. Such a change raises important questions for all stakeholders involved. How can systems and tools support the needs of researchers, institutions and funders? What data is needed to track the efficacy of Transformative Agreements? In the absence of tools and frameworks, how can publishers guide the institutional sales team to negotiate the right deal? A panel of licensing, publishing and technology experts will offer their insights. Moderated by CCC's Christopher Kenneally. Held on 16 October 2019.
Panelists:
Sybille Geisenheyner, Sales Manager, Royal Society of Chemistry
James Milne, Acting President, American Chemical Society
Mark Seeley, Public Policy Consultant, SciPubLaw
Susie Winter, Director of Communications and Engagement, Research, Springer Nature
Photo courtesy Mark Seeley / SciPubLaw
Better Data is Better Publishing (and Better Science, Too)
Read Senior Director, Global Customer Success for Mark Logic, James Wonder's overview of the presentation. Your "gut" has met its match. Data-driven solutions for publishing can lead to improvement in many areas from manuscript workflow to peer review, audience development to market reach. Yet publishing has a data problem – a deficit of accurate, relevant data necessary to manage in a world of change. Data is no guarantee of success, but as several use cases demonstrate, better data leads to better publishing (and possibly, better science too). Presented by CCC's Carl Robinson. Held on 17 October 2019.
CCC AT THE FAIR
---
STM Conference: Innovating to Advance Scholarly Publishing
Innovation in the Executive Suite
CCC President and CEO Tracey Armstrong joined an executive panel to focus on the issues, challenges and opportunities that the executive suites manages on a day to day basis and how they consider which bets to make and how they support their new initiatives. Held 15 October 2019. Learn more.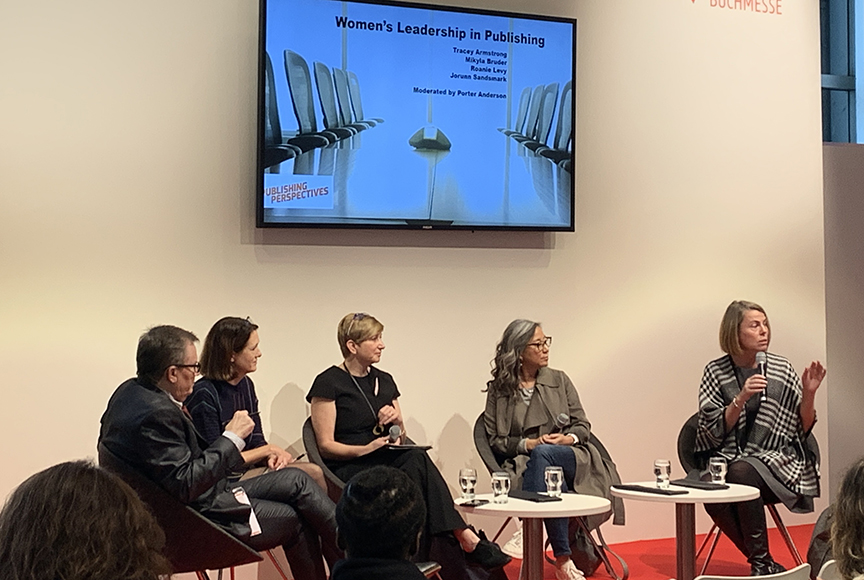 Publishing Perspectives Talk Series Panel
Read "Publishing Perspectives Talks: Executive Women on Pay and Bias in the Book Business" CCC President and CEO Tracey Armstrong joined a women's leadership panel to discuss the status of women in publishing, key challenges and how can a path forward can be defined. Held 17 October 2019.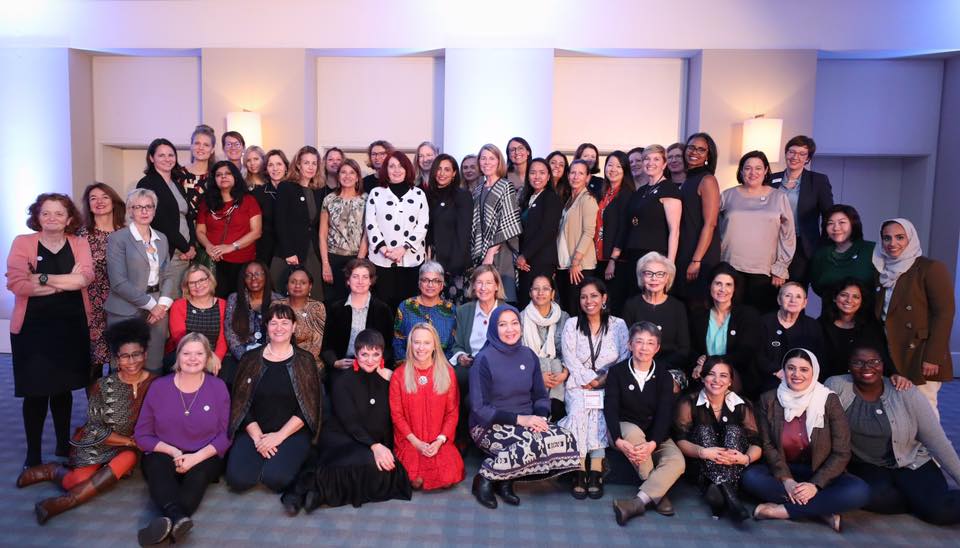 PublisHer Dinner
Hosted jointly with Bodour Al Qasimi, Vice President of the International Publishers Association (IPA) and Founding President of Emirates Publishers Association, the fourth PublisHer networking dinner was held on 17 October and featured speeches, music, networking and conversation. PublisHer is a call to action to develop a global agenda for coordinated efforts to tackle the publishing industry's long-standing gender diversity and inclusion challenges. Learn more about the PublisHer movement at their new website.