The power of RightFind is that it provides immediate access to scientific literature and data. As researchers come together to identify potential treatments and a vaccine for COVID-19, the team at CCC is taking steps to support the needs of information professionals as they adjust their services to better meet user demand.
Whether you're a longstanding RightFind Enterprise user or new to the platform, there are several ways to use RightFind to get COVID-19 information.
COVID collection in RightFind Enterprise
Publishers are making content related to COVID-19 open to read, and we have been working to make those articles as well as pre-prints of the latest research easy to obtain in RightFind Enterprise.  As of today, RightFind Enterprise's COVID collection includes access to more than 67,000 articles and preprints from the following sources:
BioRxiv
ChemRxiv
COVID-19 Open Research Dataset (CORD-19)
Europe PMC
MedRxiv
PubMed's LitCovid dataset
World Health Organization (WHO)
We are regularly updating RightFind with the latest content from these sources.
To get immediate access to this content through RightFind:
Open the advanced search and input any of the keywords below. You can search all COVID-19 open to read content using the keyword "COVID2020" or perform a more focused search of the individual datasets. You can copy the URL and share it with your users.
COVID2020 (applied to all articles in the collection)
BioRxiv
ChemRxiv
CORD-19
Europe PMC
LitCovid
MedRxiv
WHO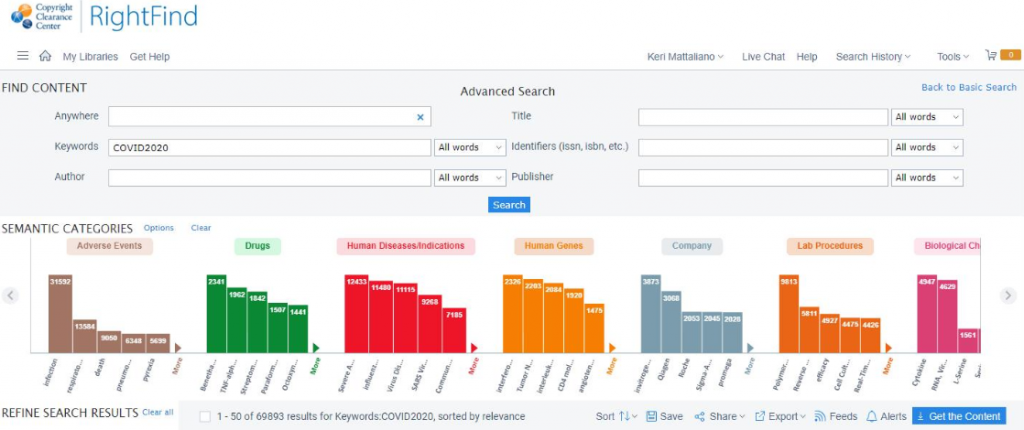 Click the links in the recently updated COVID-19 Tip of the Day. The tip includes a link to the pre-filtered search in RightFind and  links to the aggregated lists of news, science, and education resources as well as visualizations, dashboards, and datasets on copyright.com.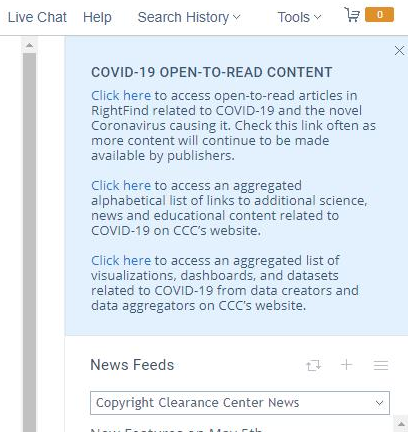 Watch these short videos (Part 1 and Part 2) for a quick overview of the RightFind COVID collection and how to access it.
COVID content in XML format for text mining
Organizations interested in COVID-19-related content for text mining projects can access CCC's XML for Mining Open Access COVID collection. This collection is available even if you don't currently use RightFind XML for Mining.
The COVID-19 Open Access XML Corpus comprises a backfile and updates that encompass more than 19,000 Open Access (Creative Commons CC BY license) articles across more than 35 publishers, in full-text, semi-normalized XML format. These articles are retrieved from XML for Mining using a query aimed at broad recall across COVID-19 and related coronaviruses.
The COVID-19 Open Access XML Corpus is updated every two weeks with new content. If you're interested in this content, please contact us at solutions@copyright.com
Keep Learning
CCC is here to help the research community in any way we can.  If you don't see what you need in the list below, please contact us at solutions@copyright.com