According to a 2022 Gallup poll, "the 'Great Global Work-From-Home Experiment' created by the pandemic has changed how we work and expect to work far into the future." Half of all respondents reported a hybrid work arrangement; 30% an exclusively remote arrangement; and 20% reported being entirely on-site. To put that in perspective, 60% of employees reported working entirely on-site in 2019.
Is the ability to have a flexible work environment here to stay? Employees would like to think so. In Deloitte's marketplace survey on workplace flexibility, 94% of respondents stated they would benefit from work flexibility with the top gains being less stress and more work-life balance. 
Indeed.com recently posted a blog touting the benefits of remote work. Employees mention the ability to work from anywhere, a better work-life balance, and saving time and money commuting as some of the top reasons that they prefer remote work.  
The most recent Information Seeking and Consumption Study reflects this as well, with the latest data indicating that the work environment has undergone a seismic shift – and that this evolution is expected to continue. This study which has been developed by CCC in partnership with Outsell, Inc. since 2007, further shows that the transition to hybrid and remote work has created new dynamics for information sharing. The ways employees engage and collaborate with published content have evolved, with a corresponding shift in enterprise knowledge workers' behaviors and attitudes around published content. 
New Dynamics for Information Sharing
This shift in behaviors and attitudes is important to note with published content being at the heart of innovation. Across job roles and verticals, employees reported that weekly access to at least 7.5 publications was critical to their job.  
The ease with which teams can access and share information, such as news, feature articles, research reports, and more, can influence the pace at which organizations and their teams drive innovation and deliver products and services to the market. The latest Information Seeking and Consumption Study surveyed over 600 knowledge workers from global organizations across 14 verticals. Why is the fact that remote and hybrid workers are sharing more often and with more people [fig. 1] so important to note? In one word – risk. The more third-party published content is shared, the higher the risk of copyright infringement.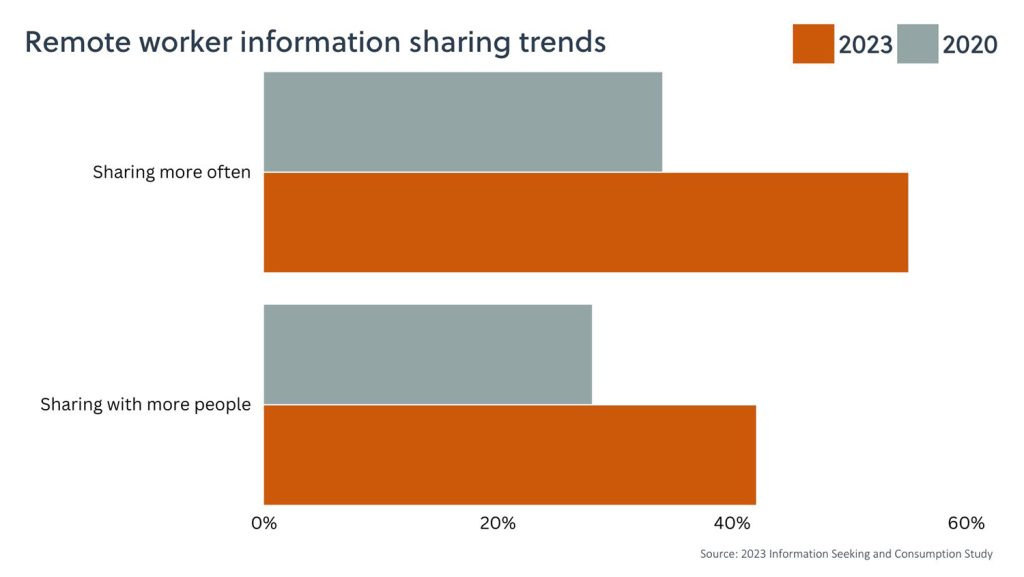 The Rise of Collaboration Tools and Risks
Outsell Inc's analysis, using data from the 2023 study, stated "…digital replaced physical for all interactions. Gaps in communication emerged and the data shows that users overcompensated." As people in companies small and large adopted collaboration tools such as Slack and Microsoft Teams, sharing became "nearly unfettered." 
The adoption and use of collaboration tools, video conferencing software, and cloud-based file storage services remain strong as many businesses have moved to hybrid and in-person environments. The use of collaboration tools as the preferred method of sharing work-related information more than doubled since the 2020 survey, while email attachments dropped by about 15%. 
Downloading content through any tool makes a new copy of that content – and copying often requires permission. With the rise in the use of collaboration tools, more people may be downloading content from those tools, creating new potential instances of unlicensed sharing, and putting their organizations at risk. 
Education and Resources – Helping You to Address the Challenges of Information Sharing  for Your Remote Workforce
Ordinary content exchanges that come so naturally in the digital world may increase the risk of copyright infringement, leading to costly lawsuits or settlements and affecting brand reputation. You can support compliance for your remote workforce with education and solutions. Here are five things you can do: 
First, if you don't have a copyright policy, CREATE one, or UPDATE your current one to reflect the way your organization works and shares information today – in person, fully remote, or hybrid. CCC provides

guidelines

for creating a policy as well as a

sample policy

to use as a model.

 

PUBLISH the policy in a central location, like your intranet, and make every employee aware of it and its details, including guidelines for using externally published materials.

 

PROMOTE awareness of the policy by sending periodic reminders about how employees can access it and why they should.

 

EDUCATE employees on copyright and information use with resources, webinars, and free courses on

www.copyright.com/learn

.

 

SECURE needed permissions, annual licenses, and copyright-compliant content workflow software for easy compliance.

 
By taking steps to balance employee reuse of published content with a strong compliance and licensing program, your company can leverage published content sharing to help support collaboration and drive innovation.  
Read more: 
The Paradox of Executive Behaviors in Content Sharing and Copyright 
Reckoning with Remote Research 
Managing Scientific Literature Access Across a Remote Workforce