After 15 years, CCC's popular podcast, Beyond the Book, is changing its name to Velocity of Content.
Since launching in 2006, Beyond the Book, which has been hosted by CCC's Christopher Kenneally, has followed the digital transformation of our professional and personal lives over more than 1,300 episodes.  Avid listeners from nearly 150 countries have downloaded the podcast more than 1.8 million times.
In fact, Beyond the Book is considered to be one of the longest-running business programs in podcast history.
Indeed, CCC began this podcast only one year after the word "podcast" was added to the dictionary.  It was so long ago, that it was before there were iPhones and iPads; a time before Twitter; and of course, long before Zoom.
The world has changed in a decade and a half – and now, Beyond the Book is changing, too.
On January 19, 2021, CCC's podcast name becomes "Velocity of Content," along with a new logo.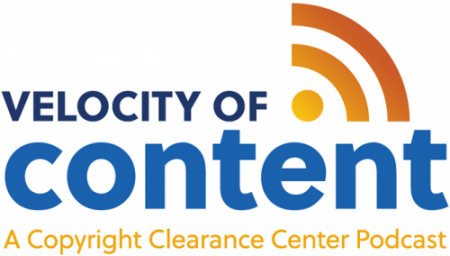 Velocity of Content is CCC's platform for thought leaders and industry experts operating at the speed of content to share new ideas, observations, and knowledge.
As a blog, and now a podcast, CCC's Velocity of Content will continue to feature breaking news and thoughtful analysis from across the dynamic global content industry.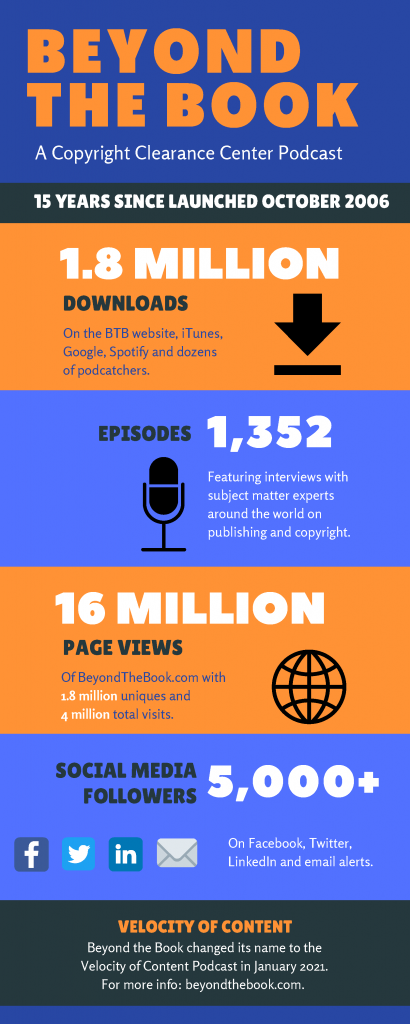 Although we're changing the name to Velocity of Content, listeners don't have to change their listening habits to stay on top of emerging industry trends and challenges.
You'll be able to find our latest podcast episodes at copyright.com/podcast and you can subscribe or listen to Velocity of Content on Apple Podcasts, Google Podcasts, Stitcher, Spotify, or wherever you listen to podcasts.
You can even ask your smart speaker or connected car to play Velocity of Content. Stay tuned to learn how organizations and individuals are thriving in a world of constant evolution through innovation and digital transformation.
If you are interested in being a guest on Velocity of Content or for other inquiries, please write to Christopher Kenneally at VOCPodcast@copyright.com or join the conversation on social media @copyrightclear.