Open access models, Plan S, and Projekt Deal, among others, show that scientific publishing paradigm is shifting to meet the changing ecosystem. In order to achieve success in this new environment, where many feel that the current ecosystem is not fit for purpose, greater collaboration between key stakeholders in the scientific publishing industry is more important than ever. Copyright Clearance Center and Outsell have joined forces to create a comprehensive map that reflects the complex relationships between stakeholders in the scientific publishing ecosystem. The map does not construct a new, ideal process but rather attempts to create a common language and understanding of the ecosystem from the perspective of each stakeholder with the hope that understanding will be the foundation for concrete change.
Discussing the Future of Science
On 10 October 2019, Copyright Clearance Center and Outsell brought together thought leaders across the scientific publishing industry to announce the release of the Scientific Publishing Ecosystem at the inaugural Future of Science event, which was held at the Royal Society of the Arts in London. This ecosystem breaks down the industry into five key nodes of the scientific publishing process: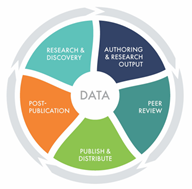 Research & Discovery
Authoring & Research Output
Peer Review
Publish & Distribute
Post-Publication
"I think we made great progress this afternoon in bringing a community of diverse stakeholders together and having some very open dialogue," said Tracey Armstrong, President & CEO of Copyright Clearance Center. "I was very impressed with the way people came to the table, literally and figuratively, to really contribute their perspective."
Hard at Work
Over the last several months, CCC and Outsell have worked to find a way to document and identify the relationships and details associated with the scientific publishing ecosystem.
"We spent time, CCC in collaboration with Outsell, really peeling apart the scholarly ecosystem," said Anthea Stratigos, Co-founder & CEO of Outsell, Inc. "Getting feedback from the marketplace and putting together a very comprehensive view of all the steps of the process."
Rave Reviews
The Scientific Publishing Ecosystem received exceptional feedback from the attendees at the Future of Science Event.
"I think this is great, great insight and great work in terms of helping us and helping the larger community understand the different moving pieces," said Abhishek Goel, Co-founder and CEO of Cactus Communications.
"The discussion this afternoon was [sic] interesting if you think of it as a journey. It confirms [sic] we are, at least, moving in the right direction," said Salvatore Mele, Special Advisor for Open Science at CERN.
Recommended Reading
Copyright Clearance Center has launched a dedicated webpage to share and explore the Scientific Publication Ecosystem and expand the understanding of how each node interacts with one another. The site includes the map as well as the Scientific Publishing Ecosystem Report.