In our latest Q&A, we catch up with Cosmin Ghinoiu, a member of the CCC team based in Cluj, Romania. Cosmin has a interesting mix of roles, serving as both Senior Technical Support Specialist and as Client Engagement Manager.
DD: Hi, Cosmin! I don't often enough get a chance to have a chat with one of our colleagues from Romania. Please tell us a little bit about your professional background. I see that, a few years ago, you worked as a web developer. What was that experience like?
CG: Working as a freelance web developer has been a rewarding and challenging experience. I needed to patiently build my reputation as a reliable and hard-working developer, which often meant long hours and a high level of stress and responsibility. While being my own boss and having the freedom to work when and where I wanted was surely gratifying and valuable, I slowly realized it wasn't something I wanted to do over the long run. I started to really miss face-to-face human interaction and being part of a community or team. This, as well as the odd working hours and other disadvantages of freelancing, have luckily landed me in the great place I am right now. I was very hesitant when I started looking for another job. It took me many months before I found something that felt like a good fit for me. I'm still very grateful I got the lucky chance of applying for a job at Copyright Clearance Center. It has proven to be one of my best decisions. It wasn't all me; the people who interviewed me and the colleagues from our local office in Cluj gave me a good feeling when I first "walked in." They made my decision to work here much more comfortable to take.
DD: What does your role as Client Engagement Manager entail? What are the most interesting (or challenging) parts of that role?
CG: I've had the privilege to take on this role in addition to my current responsibilities as Senior Customer Technical Support Specialist. This dual role is highly significant and productive by giving me a bird's-eye view of two different sides of our business both focused on ensuring an excellent client experience with our RightFind Suite of products. With my daily end-user interactions as a Support Specialist, I'm regularly exposed to the fast-paced frontline of circulating issues, questions, and client-education opportunities. This helps me much when I put on my Client Engagement Manager hat and consult with our Enterprise clients to ensure a fruitful and loyal relationship. The vast technical experience I build upon each day from my role and the enthusiastic support and guidance I get from the Client Engagement Team put me in a position in which I'm highly equipped to solve complex client requirements and maximize the client's use of our products.
As a Client Engagement Manager, one of the many exciting aspects of this role is working within a vibrant team of professionals closely aligned with other departments – Professional Services, Sales, Product Management, and Engineering. It's a highly collaborative environment where everyone does their part to solve challenges and drive growth. I think the most challenging but also rewarding part of this role is working with various clients that have very different needs. The challenge is to meet as many needs as possible for my clients while keeping sensible regard for the product capabilities and our resources.
DD: What is your overall experience of working for CCC in Cluj like?
CG: I feel like I've joined a vast, rich environment filled with a mix of familiar feelings and professional and personal growth opportunities. If you get a chance to visit us, you'll feel straight away what I mean by familiar feelings and growing on a personal level. The people in the Cluj Office are diverse and witty. We also have a great sense of humor, and we're creative in meme culture. I'll leave you to decide if that's true when you visit us. We've built quite the family here, and it's giving us all an excellent place to develop our passion for technology and information.
More generally, I've had the pleasure of working at the Danvers office for a month and met many of our colleagues during the July Company Event in 2017. This gave me a good perception of what CCC's culture is all about. From your long career with CCC, I think you know very well how CCC treats its employees and makes everyone feel like part of the family with a wonderful workplace. If you take that feeling of harmony, put a Transylvanian twist on it, and sprinkle it with Eastern European culture, you get the spirit of the CCC Cluj Office.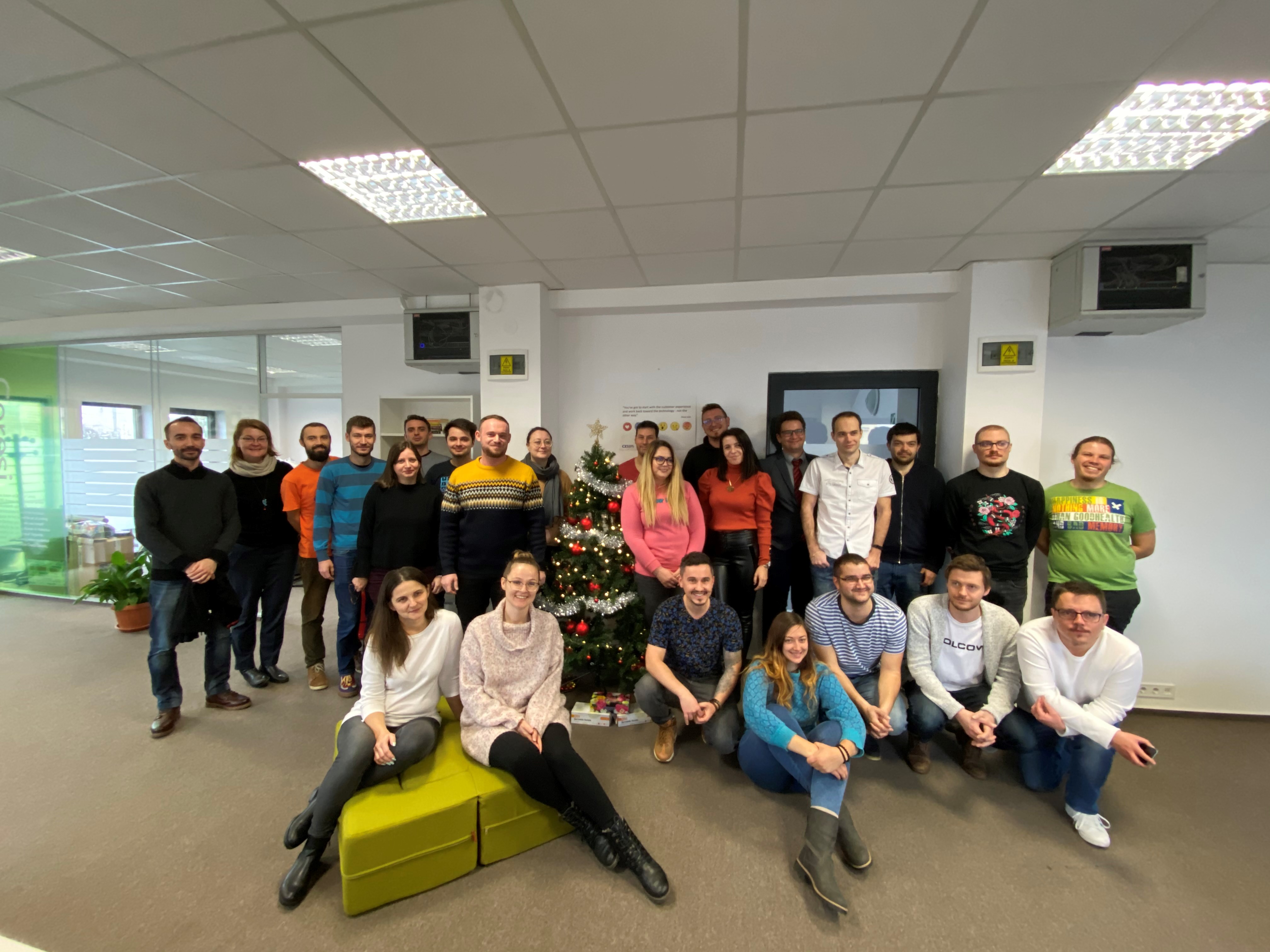 DD: In the current (2020) environment, what has your experience of working from home been? Good? Challenging? Both?
My experience, while entirely subjective, has been good so far. I'm no stranger to working from home since most of my previous job was done from my living room couch. This, and my son Liam being born just a few months before the pandemic started, have made working from home an overall fortunate experience for me. I won't risk missing my boy's first steps or his first words, and I find it quite motivational to quickly peek at his goofy daily activities. There's nothing better than a natural smile from my son just a few minutes before going into a demanding call with a client.
While there are indeed advantages to working from home, it does have its rough edges. I miss seeing my colleagues, the jokes we told on breaks, and the ecstatic atmosphere flowing through the office. It was always a joy and a great way to start your day by coming into the office and talking about what was on our minds for that day. We all miss this, but I think it's going to build up to a very joyful moment when we're all back in the office. I think it will make each of us value our office time even more than before.
DD: I am a student of European history, although I have never (yet) been to the Continent, and certainly not to Eastern Europe. If I do make my way to Romania someday, do you have any suggestions about off-the-beaten-trail sites I should go visit?
CG: My first suggestion is to plan for an extended stay as there are many experiences to be had in Romania, especially in Transylvania. We have many virgin forests untouched by humans. Some of them are believed to be haunted, like the Hoia Baciu Forest just a few miles from the Cluj Office. (You'll be able to see it from our balcony.) The rural landscape is very authentic and rich in culture. You need only to cruise through the many villages that still preserve a lot of our culture, ask the locals for a shot of home-brewed palinca [a strong kind of moonshine] and journey through the not so well-known trails that always have something new to show.
If the villages and forests are not enough, we have many castles preserved from medieval times. The most famous one would be Dracula's castle: Bran Castle. If you stray from the common tourist attractions, you'll find yourself immersed in a very Eastern European landscape with visible roots to its origins. Maramures is another culturally rich region in Romania where people still follow many old traditions. As photos can speak much more than my words can, here's one from my trip through Maramures this year: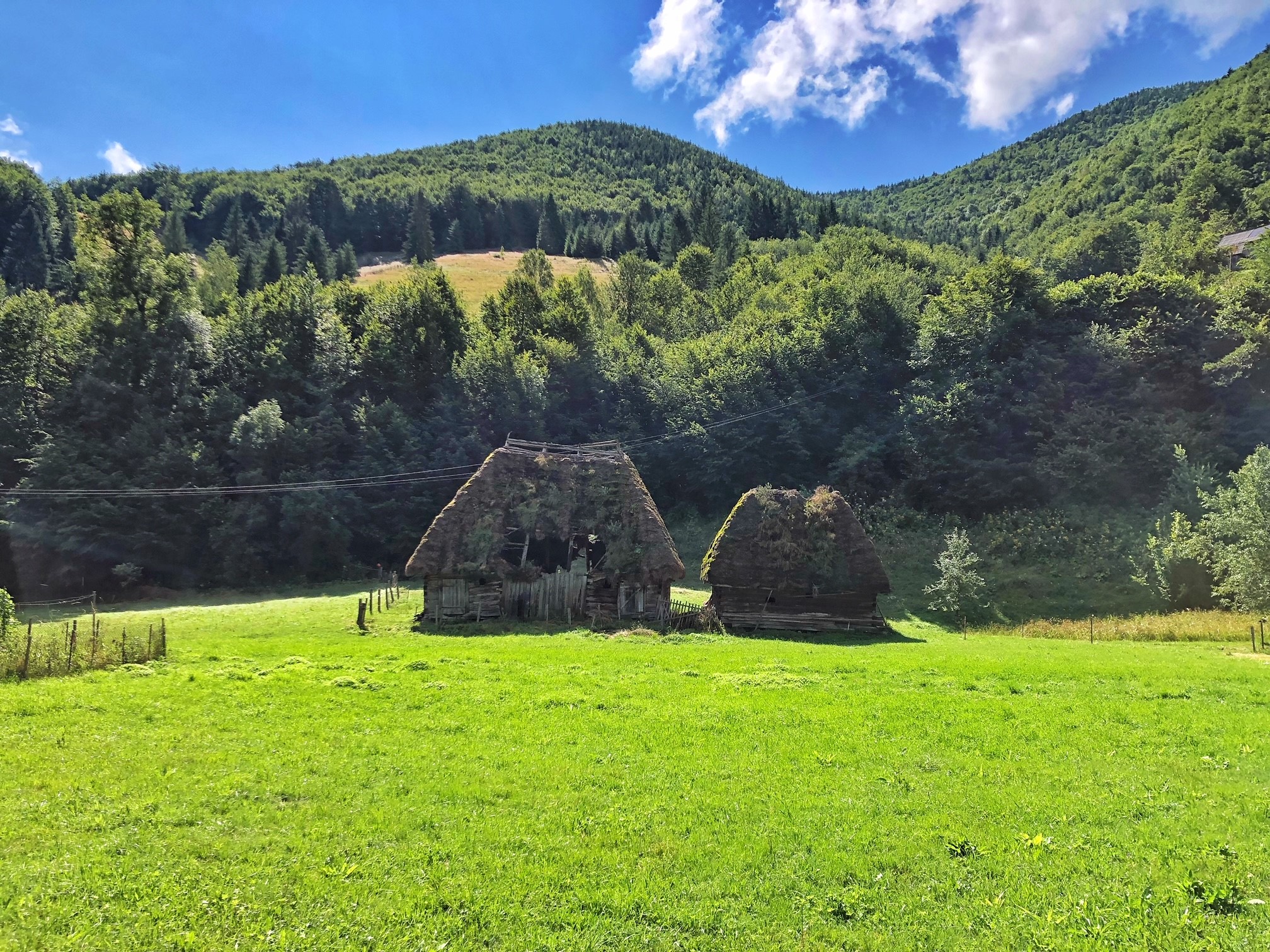 DD: If you had one thing to share with a prospective employee, to encourage them to come work with CCC at the Cluj Office — or anywhere — what would that be?
CG: I would encourage them to visit our office for a day or two (at least when it's safe to return to our old ways) and feel the lively and vivid atmosphere. They would get a first-hand account of how we've joined the overarching family-like CCC culture with our own vibrant local culture. This authentic feeling, combined with our company's fantastic global work-culture, should make any prospective employee feel welcome in our humble abode.