In December 2019, in advance of the Horizon 2020 deadline, CCC introduced a new Touch-Free Workflow functionality to its market-leading e-commerce and workflow solution, RightsLink® for Scientific Communications. This capability was introduced to make the author, publisher and funder experiences more seamless when processing Article Processing Charges (APCs). Besides expediting publication to support mandates such as Plan S, the Touch-Free feature helps eliminate the administrative burden for researchers and expedites funding approvals — all without any author involvement.
In this six-month update, we spoke with Jen Goodrich, Director of Product Management at CCC, about the benefits, the lessons learned and what the future holds for Touch-Free Workflow.
Can you remind us what the key differences between the Standard APC Workflow and CCC's Touch-Free Workflow?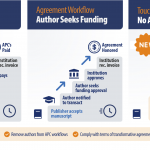 JG:  The Standard APC Workflow is the traditional way that authors were prompted to pay APCs so that their work would be published open access. In the early days of RightsLink, publishers would notify CCC when a manuscript had been accepted for publication and RightsLink would prompt the author to initiate a transaction through the RightsLink payment workflow.  The author would review a set of required and optional charges, such as open access, color, figure, page, or data hosting charges, and specify who should receive the invoice. But even if an invoice was being sent to an institution to be paid on the author's behalf, it was the author managing the transaction. The Touch-Free workflow has fundamentally changed the way APCs are managed by refining and automating these processes while complying with any applicable Transformative Agreements — all without any author involvement.
With looming Open Access deadlines, how does Touch-Free help speed the publishing process?
JG: One of the key benefits of the Touch-Free workflow is removing the vast number of touches required by authors, institutions and funders in submitting, reviewing and approving APC transactions. With the emergence of cOAlition S and regular changes to funding protocols worldwide, publishers must automate as much of the APC workflow as possible, including implementation of their OA agreements.  That's how the Touch-Free Workflow was born — to help authors, publishers and funding institutions speed up publishing and ensure Open Access compliance. We worked hand-in-hand with publishers and their stakeholders to define the set of tools required to support their Transformative and Open Access agreements. The publishing transaction is now automatic and immediate. Unless the institution wants to review the funding request, it requires no touches.
What are some of the other benefits of the Touch-Free Workflow?
JG: Touch-Free implements the explicit terms of Transformative and OA agreements and provides full transparency and a record of the transaction to all parties. It allows the publishers and the institutions negotiating Transformative and Open Access agreements to have good data about whether their agreements are effective. Touch-Free also reduces the costs of managing APCs compared to the more traditional workflow. There's no need to chase authors to complete the transaction or to answer questions that arise in the payment workflow.
What lessons have you learned since the introduction of Touch-Free Workflow?
JG: The Touch-Free Workflow implementation and operation has gone very smoothly. However, the attributes that we codify for Open Access agreements are expanding. For example, a new attribute that we have added is "article type."  We learned that a publisher or institution might want to refine eligibility for funding based on the type of article that's being submitted — whether it's a research or an editorial article, for instance.  As publishers and institutions refine their parameters for publication, we have adapted our platform and the levers that publishers can pull to implement their agreements.  In this way, Touch-Free keeps getting smarter.
Also, we had to wait for the market to be ready. In some cases, our tools were ready before the publishers' metadata were ready. Our platform is so data driven that, even though we were working with publishers as we were building out the tools, they were working in parallel to get their affiliation, funder, licensing and other information ready so they could feel confident about automating transactions. That's really been the biggest hurdle. If metadata hadn't been an issue, the uptake would have been even faster.
Has anything surprised you?
JG: What's been great to see is that some of the funders and institutions are now asking publishers to flip their agreements to Touch-Free from the standard APC workflow because they're seeing the benefits. They like the transparency and want to minimize the demands on authors. Big consortia were also seeing what was going on and they started to say to our publishers, "Hey, let's convert this to Touch-Free." So it's been very exciting to see more publishers adopting the Touch-Free model. Sometimes there's a bit of a trial period where the institution and the publisher work together to make sure the metadata are strong enough to support a Touch-Free Workflow. But they know that as soon as that happens, they can flip it over from the standard APC workflow.
What has been the reaction from publishers, institutions or authors?
JG: Authors, publishers and funding institutions have been happy with Touch-Free.  Here's what one publisher had to say:
"Keeping our business in sync with the evolving OA mandates is a priority for scholarly publishers of all sizes," said Christiane Notarmarco, Publisher, BMJ. "By offering a Touch-Free Workflow through RightsLink for Scientific Communications, we simplify the author, institution and funder experience when processing APCs for our OA journals."
What's next for Touch-Free Workflow?
JG: We developed Touch-Free in close collaboration with our publishers. As their Open Access and Transformative Agreements continue to be refined and implemented, there will be more parameters that we will need to incorporate into the workflow. You can expect us to keep refining Touch-Free as we understand what the market needs and then quickly adapt. Touch-Free will continue to become faster and smarter.