In the Spring of 2022, CCC and the OA Switchboard announced a collaboration to automate the standardized exchange of Open Access payment details between publishers, institutions and funders. Today, we are thrilled to report that five publishers are already using the connection to simplify reporting for their institutions and funders.  
As of June, publishers using RightsLink for Scientific Communications, a shared platform for OA management, can pass financial settlement data to the OA Switchboard for publication notification messaging without manual intervention.  
This is depicted in the diagram below. Essentially, publishers can choose to configure RightsLink to push a robust set of pre-defined transaction details to their custom connectors for composing and sending messages via the OA Switchboard.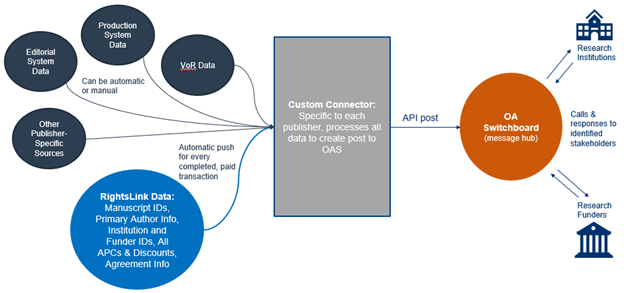 CCC and OA Switchboard share the belief that standardized metadata exchange in a secure manner is critical to supporting a sustainable and efficient shift to OA business models and have both evolved our respective roadmaps under this vision. 
The new connection to the OA Switchboard is a logical step in reducing operational overhead and improving quality and transparency in the collection and analysis of article-level OA publication details for both individual APCs and usage of funds under a prior agreement.  
With dozens of publishers using RightsLink to scale their OA programs, and an increasing number of participants in the OA Switchboard, we expect the benefits of this new partnership will continue to grow.   
When we first engaged in dialog about points of collaboration, it was very important to both CCC and the OA Switchboard that we pinpoint real challenges in the ecosystem that could be solved with better system interoperability to deliver meaningful value to the communities we serve.  
The result of that cross-stakeholder collaboration is the delivery of an automated flow of financial settlement data from RightsLink into OA Switchboard, delivering benefits across publishers, institutions, consortia, and funders: 
Improved accuracy and quality of article-level reporting resulting from RightsLink's agreement matching process

 

Reduced manual effort required to produce holistic institutional reporting 

 
More structured and harmonized cross-publisher APC and OA agreement data

 

Clearer stakeholder visibility and communications around OA publication and spend

 
We look forward to learning and evolving as this is adopted by more publishers, and exploring additional use cases together to support the industry on its OA journey.