CCC expertly solves content and knowledge management challenges with tailored consulting and technology services. Not a publisher? Start driving growth in your organization through digital transformation today.
Rapid changes have disrupted the global publishing ecosystem. From new business models to shifts in consumer behavior, publishers feel the pressure to innovate. Forward thinkers look to digital transformation and technology to optimize workflows, strengthen partnerships, and enhance the customer experience.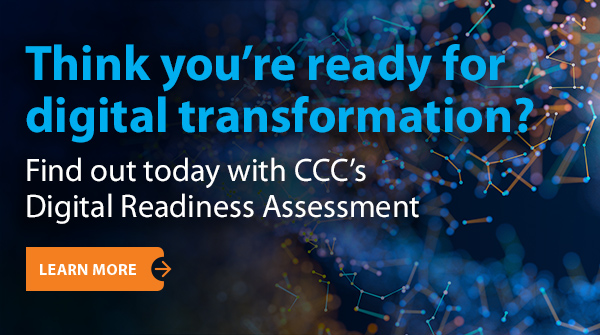 Backed by extensive expertise in the publishing industry and award-winning licensing and content publishing solutions, Copyright Clearance Center delivers custom, scalable, dependable results.
Deploying successful solutions for publishers for more than a decade, the consultants and technology leaders from CCC understand the content and knowledge management needs of publishers inside and out.
In addition to developing tailored solutions to meet your needs, CCC also offers discreet consultancy on specific areas of challenge for publishers.
Content & Knowledge Management Solutions
We believe that successful content and knowledge management solutions balance the holistic needs of people, process, technology and content and/or data, and our team of expert consultants partner with you to define the optimum balance to help support your plans and ambitions.
Our approach includes:
Consultancy services to define problems and refine solutions in the following areas:

Content and knowledge management solutions for publishers
Workflow and business process modelling
Data and data source integrations
Reporting
Strategy, change management, review business models and vision

Technology selection and integration as part of solutions for content and data management
Development of approaches to ­— and technology for — structured content (e.g. XHTML/XML), enabling format-agnostic, schema-compliant delivery of content to multiple channels to add value to our solution proposals
Partnerships with third-party technology and service providers to add value to our solution proposals
Use of pre-existing software offerings to accelerate delivery of working solutions supporting success
Our team is comprised of content management, data, and strategy experts, leading-edge technologists, and systems integration specialists. We will work with your organization to better enable you to respond to changing business conditions, to create and deliver business solutions which align with your goals, and to create competitive advantage.
We work with our clients to select an optimum combination of commercial and open technologies to meet each organization's unique requirements. Our solutions are flexible, scalable, tailored, and cloud-based, including third-party integrations, custom enhancements and proprietary software from CCC, as well as training, hosting and managed services as needed.
Content and knowledge management solutions from CCC provide authoring, enrichment, discovery, reuse, workflow and delivery capabilities to drive digital transformation to the next level.
Metadata Strategy Services
Many publishers struggle to create a comprehensive metadata strategy due to competing internal priorities, scant data expertise and limited resource availability. CCC's consulting and technology services empower publishers to create, manage and use reliable metadata as a catalyst for business change such as improved internal and external discoverability.
Through facilitated workshops, analysis of the organization's current state, and a proposition of the possibilities for the future, our consultants inform the generation of a suitable data model and, when appropriate, propose taxonomies strategically aligned to the goals of the business.
Our approach is designed to help publishers adopt the healthiest possible metadata strategy that:
Defines the domain to describe and enable a better understanding of the world in which the publisher operates.
Describes the content to maximize your opportunities for market share/revenue.
Designs enrichment strategies to decorate content with meaning and thereby deliver greater value to customers.
Tunes enrichment engines to take advantage of current and future machine learning capabilities.
From there, CCC supports long-term management of strategies and solutions that:
Better engage customers with insights gained from user.
Maximize lifetime value of content by enriching it to improve access internally and externally, and among systems that support the supply chain.
Achieve business objectives by making content readily discoverable in line with the way consumers search.
Explore our insights on the topic of metadata in recent blog posts and podcast episodes.
Check out our new Metadata Resource Library for expert insights and best practices on the power of metadata.
Open Access Workflow Services
Open Access Workflow Services is a consulting offering from CCC built for publishers investing in Open Access (OA) business strategies through transformative agreements. This consultancy service provides many levels of OA and transformative agreement workflow support to publishers, institutions, and other key stakeholders in the scholarly communications ecosystem. Through facilitated workshops, analysis of the organization's current state, and recommendations for change management and operations, our consultants work with publishers on a transformative agreement workflow strategy that allows the publishers and their stakeholders to take actionable steps in advancing OA business objectives.
Our OA consulting services help publishers identify and implement strategies and solutions that:
Improve collaboration with all OA stakeholders – both internally and externally
Fast-track organizational objectives
Improve workflow design to build supportable, sustainable practices
Create a roadmap toward future success including metadata and systems analysis
Achieve alignment on next steps through reporting and business analysis
CCC is a member of the Open Access Scholarly Publishers Association (OASPA), the Association of Learned and Professional Society Publishers (ALPSP) and the International Association of STM Publishers (STM), and a Sustaining Member of the Society for Scholarly Publishing (SSP).
Discover our insights on OA with recent blog posts and podcasts.
Ready to discuss your data challenges?
CCC has been helping publishers leverage technology solutions for more than 40 years, providing a level of publishing expertise rarely found in technology vendors. How can our experts help you?