The Student Assessment License is an efficient licensing solution that supports the development and administration of K-12 student assessments.
The license does not include access to content, but rather pre-authorized permission to reuse excerpts of copyrighted content (including text, images, and video) from participating publishers in K-12 assessments, item banks, and pre- and post-test materials.
You can quickly verify license coverage using RightFind Assessments. No longer do you need to clear one-off permissions through publishers. The rights have already been pre-cleared and the covered content is ready for inclusion in your assessments.
NEW – Content Discovery Portal
Student Assessment Licensees can now search for and discover content for use in student assessments and item banks using the Content Discovery Portal. Powered by EBSCOhost, the portal enables you to do an aggregated search of the full text content from many Student Assessment License (SAL) participating publishers pre-authorized under the license. You can also view titles and additional detailed information about other works which match your search criteria.
Using the Student Assessment License is Easy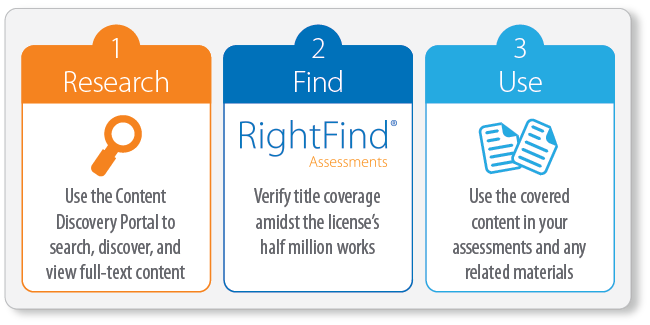 Need Help?
Read the Content Discovery Portal user guide and video overview to learn how to quickly search for and identify content for use in your assessments and item banks. Review the Student Assessment License search tool user guide to learn how to find the titles you need.
Usage Survey Reporting Resources