While using RightFind Academic to verify coverage under the Annual Copyright License for Higher Education from CCC, you may occasionally be presented in your search results with a link next to "Digital Sharing" or "Photocopy Sharing" that reads "TERMS."
These terms come from the participating publisher, and they are in addition to the standard CCC terms and conditions for the license. You can see an example of these additional terms in the screenshot below for the "Science" search result:
---

---
Clicking on "TERMS" will present you with the special terms, as seen here: 
---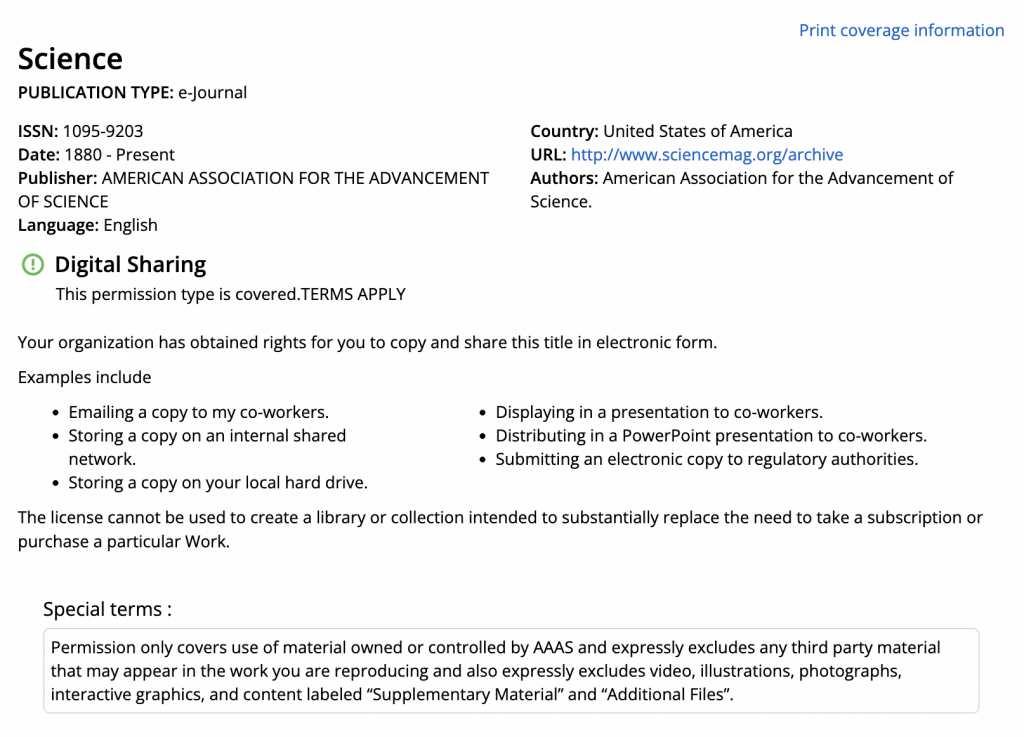 ---
In the above example for the search term "Science," digital and photocopy sharing is permitted but the terms indicate that third party content is not covered under the license nor are certain types and formats of content such as images and supplementary material. Also, the terms state that coursepacks cannot consist of more than 30% of the Publisher's Publication. This instance is a case where special terms indicate precisely the amount of content you may use. In many cases, publishers do not provide such exact details.  
Other special terms you may encounter could include "only staff-produced copy may be used" which means that you need to determine whether the author(s) of a given piece of content are on staff at a particular publication (e.g., The New York Times).
Some publishers may include special terms regarding Open Access materials which may allow for certain types of reuse without permission and may instruct you to refer to an article's copyright line to determine whether the content you wish to use is Open Access.
We hope the above examples illustrate why it's important to read and adhere to the special terms in all RightFind Academic search results. Failure to abide by these terms constitutes a violation of the Annual Copyright License for Higher Education.
Live Customer Onboarding Sessions
To ensure that you get the most value from your Annual Copyright License for Higher Education, we invite you to register for a live one-hour informational session to learn more about the license, what it covers, how to verify license coverage, and more.