COVID-19 Open to Read Content Collection
Publishers are making content related to COVID-19 open to read, and we have been working to make those articles as well as pre-prints of the latest research easy to obtain in RightFind Enterprise.  As of today, RightFind Enterprise's COVID collection includes access to more than 176,000 articles and preprints from the following sources:
BioRxiv
ChemRxiv
COVID-19 Open Research Dataset (CORD-19)
Europe PMC
MedRxiv
PubMed's LitCovid dataset
World Health Organization (WHO)
We are regularly updating RightFind with the latest content from these sources.
COVID-19 Data Visualizations
Over the last few months, we have enabled access from within RightFind to more than 85,000 additional open-to-read articles and preprints from seven different data sources.  To help researchers understand the breadth of coverage these sources represent so they can better use the content, we have created several charts and visualizations to break down the data.


The overlap between sources can be seen in the following Venn Diagram. To better illustrate the overlap, the preprints from the preprint servers and Europe PMC have been removed.
You can see that each source has a significant amount of unique content, and that only 1,954 articles are present in all 4 data sources.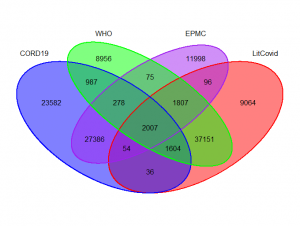 This chart shows the range of publication dates represented in the CORD-19 Europe PMC, and WHO data-sets. The Rxiv preprint servers and LitCovid data sources include content published from 2019 to present only.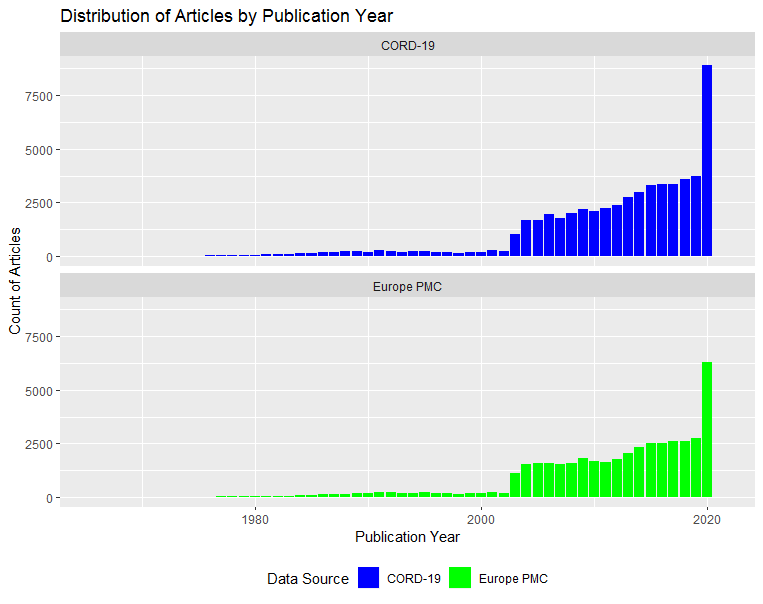 Get access to the COVID content with a free RightFind account sign up today.