RightFind® Insight Offers New SciBite Vocabularies
RightFind® Insight is CCC's powerful search and discovery tool that brings semantic enrichment to the search and reading experience to turn information into knowledge and accelerate new discoveries. It is powered by the SciBite® platform, including hand-curated vocabularies/ontologies and the ultra-fast named entity recognition extraction engine TERMite®.
SciBite®, our partner in RightFind Insight, has responded to the pandemic by creating two new vocabularies to help researchers identify biomedical entities within text, including one specific to COVID-19 and one around coronaviruses more generally:
COVID-19 Proteins: Contains proteins from two coronavirus genomes and human targets.
Coronavirus Strains/Viral Processes: Common names and synonyms for the viruses, common genes, and proteins investigated in Coronavirus strains along with relevant gene ontology terms.
We have added these two new vocabularies to our semantic search and enrichment add-on module, RightFind Insight, to help researchers find relevant concepts within the RightFind catalog, especially when coupled with concepts from other vocabularies. For example, searching for the concept 'SARS related coronavirus' in the category 'Human Diseases/Indications' you'll see the related COVID-19 proteins and Coronavirus strains and viral processes in the resulting literature: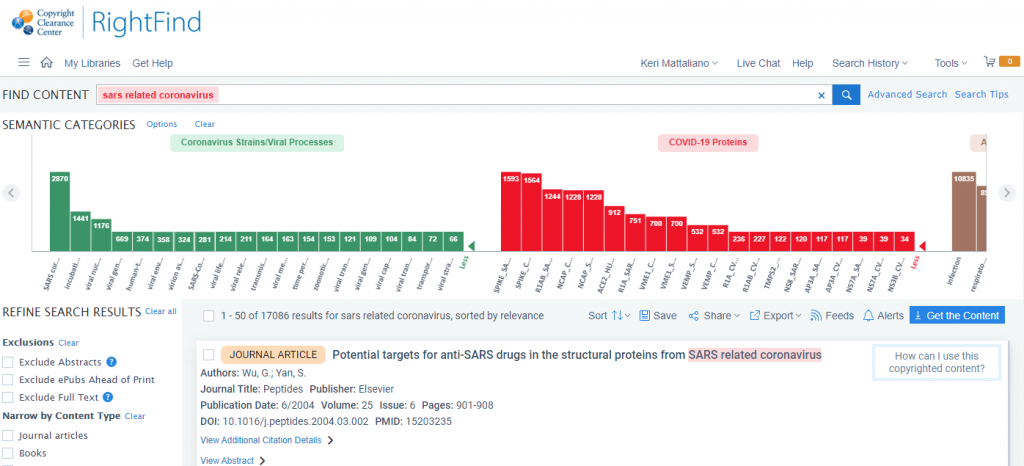 To learn more about RightFind Insight download the overview sheet or visit our website.  To get demo or ask any questions you may have, contact us at solutions@copyright.com.