In July 2019, Christopher Kenneally spoke with Rob Johnson of Research Consulting during the webinar Plan S Revisions Decoded. They covered all things Plan S: what has changed, what has stayed the same, and what might happen next. 
Ready to stream? Fill out a brief questionnaire to access Plan S Revisions Decoded.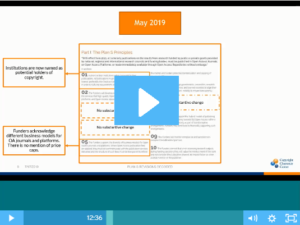 "S" for "Shifting"
Ten months after the debut of Plan S, cOAlition S revealed changes to their principles and implementation guidance, impacting aspects of the scholarly publishing workflow such as:  
The implementation deadline 

 

Publication fees and collection models 

 

Hybrid journals 

 

Transformative and transitional agreements 

 

Open Access repositories

 
Between November 2018 and February 2019, cOAlition S received more than 600 feedback statements from over 40 countries, leading to today's more nuanced set of principles and guidelines.  
2020 Becomes 2021…or 2024
The most significant revision to Plan S is that the start date for when the policy comes into effect has been delayed by 12 months to January 1, 2021. There is still a deadline marked on the calendar for January 1, 2020, for more information on costing detail for publishers. Long-term, there will be a five-year period of transition and transformation over which hybrid journals, where article processing charges (APCs) and subscriptions are permitted, can be accepted under transformative arrangements.  
From Regional to Global
Previously framed as a European funder initiative, Plan S is now presented as a global undertaking that represents European as well as non-European funding bodies. 
Repositories Rise in Importance
Whereas repositories were previously buried as playing a role in archiving, they have been elevated to part of the overarching approach on the same level as Open Access platforms and journals as a means for making content open.  
Journal Impact Factor Takes a Hit
Many people have said that for the Open Access transition to be successful, there must be a fundamental change to the way research is evaluated and measured. cOAlition S have included a principle acknowledging that they will value the intrinsic merit of the work when assessing publications rather than journal impact factor. This is a step towards breaking the stranglehold of journal impact factor, which inhibits many of their proposed changes to scholarly publishing.  
There's been a huge amount of feedback from learned societies and early career researchers because if early career researchers are prevented from publishing in subscription-based high impact journals it could be detrimental to their career prospects and to European research as a whole. cOAlition S advocates that change in the publish system must go hand in hand with changes to the research evaluation mechanisms.  
More Principles to Watch
Institutions are now recognized as potential holders of copyright. 

 

Beyond Gold Open Access and Green Open Access, there can be many different business models that allow Open Access change to happen. Transparency is more important than price caps. 

 

The number of stakeholders is greater than previously recognized, particularly libraries, research organizations, academies, and learned societies.

 

The hybrid journal business model, meaning that payment of an APC allows an article in a subscription paywall journal to be made Open Access, is very popular in places like the UK. Initially ruled out, hybrid journals are now permitted as a part of a transformative agreement. 

 

Funder beneficiaries and grantees – institutions, researchers, and publishers – may face sanctions like limited access to future funding or withholding a portion of a grant if they're not seen to be complying with the policies of Plan S when they take effect. 

 
Routes for Authors and Researchers to Be Compliant 
From now on, authors must know whether their preferred publishing venue meets their funder requirements and think about which pathway to compliance is the most relevant for them. 
Publish in an Open Access journal or platform. 

 

Publish in a subscription venue with the final version of the content available in an Open Access repository. 

 

Publish in a hybrid journal in a transformative agreement with a demonstrated commitment to transition to Open Access in the future. 

 
Looking Ahead
cOAlition S is looking to appoint a new Open Access Champion, who will impact the approach to promoting global change, will shape the direction of cOAlition S, and will guide a new secretariat.  
As the January 1, 2021 deadline draws closer, new workstreams will be forthcoming from cOAlition S to address compliance monitoring, transformative agreements, pricing on publisher services, rights retention, and more.  
The 20 funders and stakeholders currently committed to cOAlition S contribute to an estimated 5% of global research output, so Plan S alone will not transform scholarly communication, although it has garnered a lot of attention.  
Plan S is only one part of a rapidly changing global market for subscriptions. Other factors include the cancelation of subscriptions by significant libraries and consortia, the increase in published output especially from Asia, and a diversity of content providers beyond the publisher platform. The pressure continues to mount on the subscription model.  
Recommended Reading