Indisputably, Open Access is here to stay as a key part of daily academic publishing life. But have publishers' systems and tools adequately evolved in parallel?
CCC's Chuck Hemenway, Director of Business Development, shared his quick take at OASPA's 9th Annual Conference on Open Access Scholarly Publishing
Chuck's top takeaways are that open access will continue to disrupt scholarly publishing as long as:
1) Publishers continue to struggle to apply best practices in the management of data, as it pertains to the financial aspects of scaling an open access program, which makes delivering a good service to the author and to the other stakeholders, primarily institutions and funders, a big challenge.
2) There's incredibly high administrative overhead to process a single manuscript's invoice – a lot of which falls to insufficient data, or the fact that the actors involved in the process, the author included, are not in possession of certain bits of knowledge that they need to make the process work properly.
3) The volume of transactions continues to increase, working towards the goal set by Horizon 2020 and other initiatives. If publishers and other stakeholders can't get APC transaction processes to scale efficiently, things will continue to deteriorate.
So, how can you evolve your program? The keys to success are:
1) Metadata
2) Automation
3) Common Reporting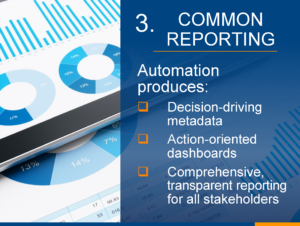 Ready to keep learning? Check out: