Pharmacovigilance organizations might not be known as early technology adopters, but research suggests the industry is shifting towards taking advantage of the latest artificial intelligence technologies, without being coerced by legislation.
Here's why: The argument, between the amount of data shown from dedicated post-authorization studies on the safety of medicines, combined with the increasing number of data sources, is compelling. Is it time for pharmacovigilance teams to utilize AI applications to improve adverse event reporting?
AI can do the heavy lifting
Adverse event processing, in particular, is ripe for disruption from AI techniques – the costly, albeit repetitive, task is essential to pharmaceutical companies. The high costs and labor intensity of manual adverse event case processing has led more than half (57%) of pharma firms to outsource it, according to research commissioned by Oracle. But by adopting AI, they might not have to subcontract it.
The Oracle research, entitled 'Addressing the Data Challenges of Pharmacovigilance', reveals that 62% of drug safety experts have begun efforts to improve adverse event processing with the use of AI. The findings suggest that the industry is actively trying to find ways to spot risks earlier and manage them more effectively, so that it complies with increasingly complex regulations.
The survey, which drew answers from 153 professionals working in regulatory affairs, risk management and adverse event case reporting among others, revealed exactly where safety teams believe they will benefit from AI:
27% have, or plan to, implement AI for quality assurance
23% have, or plan to, implement AI for follow-up processing
19% have, or plan to, implement AI for faster reporting
To enhance security, the industry is shifting towards cloud-based systems, with almost 60% of survey respondents revealing that they're already storing safety data in the cloud, or are planning to make the transition within the next two years.
Bruce Palsulich, VP of safety product strategy for Oracle Health Sciences, noted that as well as greater security risks to manage, safety teams have seen a rise in adverse events reported in recent years, from increasing data sources.
Related Reading: Should Pharma Embrace Social Listening for PV?
In 2017, the FDA received over 1.8 million adverse event and medication error reports associated with the use of drug or biologic products. That was a 400% increase from ten years earlier – in 2007, the FDA received 363,171.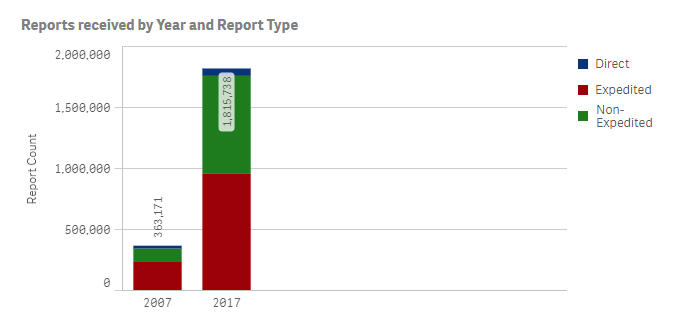 Respondents are now most likely to try to detect safety signals in clinical trial data and scientific literature, followed by electronic medical records, spontaneous reactions in the company's AE database, and spontaneous reactions in public data sets.
Given the busier environment that safety teams are now operating in, there is a clear need to find a better approach to perform adverse event case processing.