Artificial Intelligence (AI) in literature-based research continues to be a hot topic, but until very recently, it has not been well understood or widely adopted. While the technology underpinning AI has been around for some time, the evolution of new methods and the technological scaffolding to support it has been slow to evolve. That has now changed, and as a result, the way we conduct research is about to fundamentally change as well.
On October 14, CCC will join Evidence Partners for a webinar that will debunk the myths of AI and explore pragmatic applications of these technologies that can be validated and used today to dramatically improve the speed, quality, and transparency of this important research.
Moderated by CCC's Vice President and Managing Director Lauren Tulloch, the session will feature panelists Babis Marmanis, CCC's Executive Vice President and Chief Technology Officer, and Peter O'Blenis, Evidence Partners' Co-founder and Chief Executive Officer.
Join this engaging panel discussion on the state of AI in literature-based research to learn:
The myths and realities of AI
Common challenges and best practices in using AI effectively
Specific use cases where AI is working well today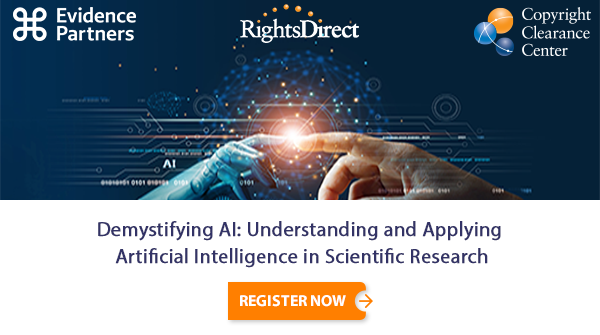 In the meantime, you can start learning with the following resources: