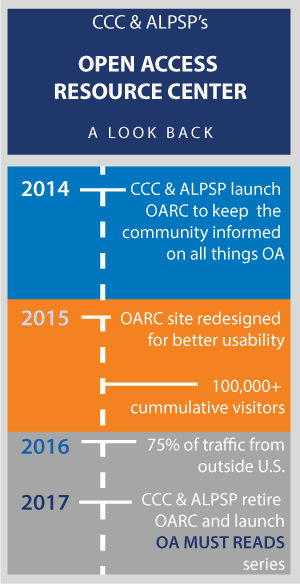 Together with the Association for Learned and Professional Publishing (ALPSP), Copyright Clearance Center is excited to introduce the inaugural post of our "Open Access Must-Reads" series – a thoughtfully curated selection of important articles from the past few months that expound upon "can't miss" developments in the world of Open Access.
BACKGROUND
CCC and ALPSP each have long been committed to helping publishing professionals keep track of current thinking and policy developments on Open Access across the globe, lately embodied in their partnership on the Open Access Resource Center (OARC). Ultimately serving more than 100,000 visitors, this vast online reference library launched in 2014 helped the publishing community parse the flood of information at the onset of the OA groundswell. Recognizing that the information needs of the community have changed over time, we've designed the new Open Access Must Reads series as a fresh take on the OARC, with a curated approach that makes staying abreast of OA developments easy.
---
PICKS FOR SPRING 2017
In late 2016, OpenAire, on behalf of the European Commission, engaged Research Consulting to undertake an economic analysis study of the Open Access publishing market. This blog post from OpenAire calls out key highlights from the report, authored by Rob Johnson, Director of Research Consulting.  Johnson ultimately concludes that "more ambitious actions at a policy level are needed if the EU's goal of immediate OA by default is to be delivered" by 2020. The blog post features a digest of main barriers to the transition to OA as laid out in the report, as well as implications for policy makers.
Management of Open Access publishing across many stakeholders is complex and in many instances, manual – making it inevitably prone to error. In this Scholarly Kitchen article, intellectual property consultant Prof. Charles Oppenheim digs into the frequency with which OA articles are mistakenly paywalled across the industry, and the ultimate costs to publishers, which range from time and effort to organizational credibility.
Several U.K. universities, led by Imperial College, are proposing a license that requires authors to post the accepted version of their articles in their institutional repository under a CC BY-NC license within 90 days of acceptance or at the point of publication of the Version of Record, whichever is sooner. No embargo period is permitted before public availability. Waivers may be granted in some cases. A further discussion is available here.  This is a strong push towards Green OA, in conflict with the U.K. Government preference for Gold OA, which originated with the report produced by the Finch Group.  The policy has been in development since 2015, but engagement with publishers has only recently taken place. Around 15 U.K. Institutions are expected to sign up to the licence when it is formally launched in the autumn of 2017.  ALPSP, working with the UK PA and the STM Association, has had an initial meeting with the Steering Group responsible to explain some concerns both authors and publishers will have with the policy, and are working to provide more detailed information on some of the areas on which the Group appeared to require clarification. Further meetings are being set up.
Two U.S. Representatives, Eddie Bernice Johnson (D-TX) and Jim Sensenbrenner (R-WI), asked the Government Accountability Office to evaluate the status, effectiveness, and benefits of current federal public access policies. Specifically, their inquiries revolve around the status of implementation of the OA policies, whether there are challenges in implementation, and the current level of effectiveness. They also ask:
Are the agencies consistent or different in their approaches and mechanisms used?
Are the stakeholder communities experiencing challenges in compliance and how well are agencies working with researchers, publishers, and other stakeholders to streamline compliance?
How are the agencies paying for their plans?
---